"The first step and most important stage in customer experience management is buying. Nothing else matters if no one is buying from you because then you have no customer to manage."
A pioneer story
Belgacom's roots run deep. The company goes back to the first incumbent telephone company in Belgium, Régie des Télégraphes et Téléphones, or RTT whose history goes back even further to the first telegraph line between Brussels and Antwerp in 1846. They have been combating competitive forces as far back as when telex competed directly with its telegraph offering in 1937. But you can't become a 168-year-old company without innovation.
Belgacom was one of the first companies in Europe to offer high-speed data services via Integrated Services Digital Network (ISDN) and their wireless services date back to the first radiotelegraphy service for ship-to-shore communications in 1902. Today Belgacom operates international under 7 distinct brands and have led the way with cloud, convergence, entertainment, healthcare, machine-to-machine (M2M), mobile, satellite and other state-of-the-art services in Europe. They are still the only mobile-fixed line service provider in Belgium and their propensity for technical alchemy made them an excellent candidate to try a new approach to support systems.
In September of last year, Sigma Systems announced that Belgacom selected key components from its catalog-driven idea-to-install portfolio to converge their product life-cycle management and order management processes and to support their cross-channel sales transformation program. In the press release, Joost Pinnoy, Director BSS Transformation at Belgacom stated:
"The concept of a central 'product catalog' system was identified as a critical new component for an improved selling and order management process. The EPM and CPQ products deliver an agile product platform and integrate that product information directly into our ordering system. This means we can bring our services to market faster to keep pace with the dynamic and advanced needs of our customers."
And that, at least for Sigma Systems, seems to be what it's all about. In an interview, Sigma's Chief Strategy Officer, Catherine Michel shared this with Pipeline:
"For Sigma Systems, it's about making Belgacom and our other customers' services easier to sell to their customers. They have the networks but it's about harnessing its capabilities to quickly craft and go to market with new offerings encompassing those capabilities across multiple distribution channels."
Michel went on to explain that the first step in customer service is the customer's ability and experience of buying the service. This makes perfect sense, as it is in the first touch point in the customer life-cycle. Or as she so eloquently put it:
"The first step and most important stage in customer experience management is buying. Nothing else matters if no one is buying from you because then you have no customer to manage."

Sigma Systems is doing this at Belgacom, Vodafone, Sky Italia and their other customers around the globe. They are helping CSPs create and collaborate on a central product catalog that can then be used to create personalized customer channels so that they can easily buy from them and then automating the order creation and fulfillment process so that the initial phase of the customer experience is as it should be: personalized, easy, and error free (Fig. 2). They are also leveraging their strategic alliances with companies like Microsoft to ensure that accurate view of the product portfolio and the customer are reflected in their CRM systems. They are helping them create personalized offers based on qualification and restrictions specific to each customer and the customer's preferences.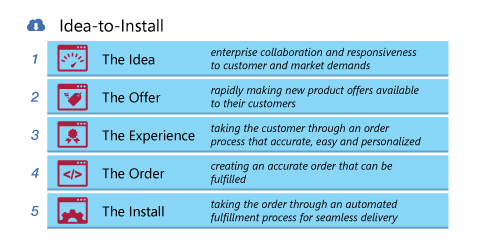 [Fig 2: Sigma Systems' idea-to-install concept]
Belgacom and others are taking the leap to the new generation of support systems that go well beyond the systems we once knew and some of us loved. It's not the support system of a by-gone era, but the next-generation of systems that can help service providers overcome the issues they are facing today. If nothing else, it can help them get service to market more quickly, improve the customer experience, and create a repository of information than can be used to improve the accuracy throughout the CSPs IT environment. What may be more important is that it puts a platform in place that can enable CSPs to rapidly respond to customer and market demands that are changing at a rate that is only bound to continue to increase.