By: Jesse Cryderman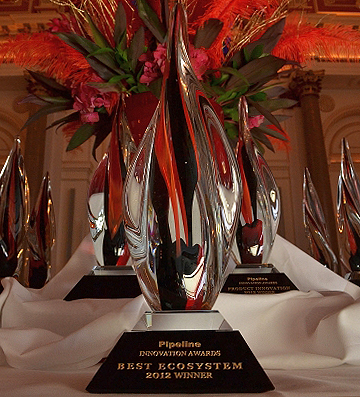 Innovation isn't just a buzzword for communications service providers (CSPs) operating in today's rapidly evolving, highly competitive global market. Innovation is a necessity. Informa Telecoms & Media predicts mobile data demands will spike ten-fold over the next five years, while operator revenues will only grow two-fold, and non-core data service revenues will drop more than 25 percent. CSPs simply must do things differently to remain relevant and profitable.
Pipeline's Innovation Awards have been intentionally designed to identify and highlight the most innovative communications technologies and companies in the industry. The awards are the most objective and credible of their kind-- providing recognition and an endorsement from those who are most familiar and impacted by advancements in communications technologies. This year, the 2012 Innovation Awards program was far-reaching, thoroughly vetted, and judged by key executives from leading service providers and influential members of the analyst community. Contestants competed in 10 categories of innovation, and the winners were presented with a coveted ComIT trophy, shown above.
Initially, well over 50 companies were nominated including service providers and technology providers alike. Nominations came in from all sources: some companies were nominated by partners, others by their customers. Some companies nominated themselves, and
Pipeline
nominated a select few companies it saw as being truly innovative, as well.
From there, the playing field was narrowed to 20 finalists through an extensive review and evaluation process. The finalist's award submissions were passed on to the exclusive industry Judging Panel for voting and ultimately the selection of winners. This year, the industry Judging Panel was comprised of an esteemed consortium of key executives from leading service providers around the world such as AT&T, BT, Cox, Intelsat, TELUS, Turkcell, and Yota, as well as influential industry analysts.
The 10 categories for this year's Innovation Awards were: Product Innovation, Technical Innovation, Innovations in Networking, Advanced Connectivity, Cloud Innovation, Innovations in CEM, Best Deployment, Best Ecosystem, Most Innovative Company, and Editor's Choice. All finalists were truly representative of the edge of innovation in the industry today, making the selection of winners quite difficult. In fact, the winners of half of the award categories were decided by a single vote.
"The competition and quality of the submissions was high and I have found it very interesting to see the innovative approaches folks have chosen to take forward their solutions," said Jason Cook, Chief Architect & CTO, Consumer Packaged Goods and US & Canada, BT Global Services. "These selections have been hard decisions and I personally would like to pass my 'well done' to all of the submitters regardless of their final placing."