By: Scott St. John, Tim Young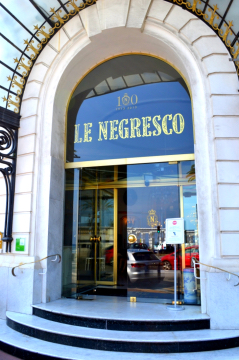 The Power of Innovation
There is something perfect in the incongruity of standing in a century-old hotel—a relic of the final days of the Belle Époque—and being exposed to some of the most advanced technology in the world.
As jarring as the juxtaposition may seem, Le Negresco represents the tremendous optimism and perseverance that could be found in its bustling corridors when it opened its doors in 1913. It was the brainchild of Romanian-born Henri Negresco and was designed by Édouard Niermans, who also designed the Moulin Rouge and many other prominent theaters and hotels throughout France. Le Negresco was designed to draw in the clients or wealth and nobility and bathe them in luxury beneath its iconic pink dome.
And when, just a few years later, Europe was plunged into war, this iconic institution found a way to survive. Le Negresco served as a hospital during the war, and changed hands several times after the collapsed tourism economy forced its sale in 1920. Through decades of ups and downs, the hotel remained grand and imposing as it stood watch over the azure waters of the Mediterranean. The principles the hotel embodies, its resilience and ability to adapt for more than a century despite the challenges and changing world around it, illustrates the value and importance of innovation. It stands today as a shining example of the marriage between preservation and transformation. And on the first day of June, we gathered again in that noble space to celebrate the recipients of the 2015 Pipeline Innovation Awards.
As we have previously described, Pipeline's awards program has been built to be uniquely thorough and objective, leveraging the immense wisdom of a panel of technical executives from service providers, systems integrators and industry analysts to evaluate the many exceptional submissions we received. All told, more than 70 companies received 150 distinct nominations and competitors completed a comprehensive evaluation process including extensive supporting material and interviews by the judging panel. Thinning this impressive field down to a mere few Semi-finalists and Finalists - and selecting the Winner in each category - was no easy feat, but our judging panel was equal to the task. The esteemed 2015 Innovation Award judges routinely commented on the quality of submissions during their in-depth review and commented on the difficulty in selecting just a few top competitors due to vast and remarkable technical advancement shown throughout this year's competition.
This year's competition was extraordinarily close. The finalist scorecards, which are used to help objectively identify Finalists based on the level of innovation included within each submission, reflect that in one category the difference between an entry that moved on to the finals and one that was eliminated was a mere one-tenth of a point. In four categories—Security, Networking, and both CSP categories—the Winner came down to just a single vote. In several instances the judges remarked on the value of both Finalists' innovations and how they are both worthy of winning.
Given the exceptional effort the evaluation process required from participants and judges alike, an evening of celebration was certainly called for. And what an evening it was.

Guests gather for cocktails before going on a tour of Le Negresco's priceless art collection and historic sites

Guests representing many of the nominated companies were on hand, as were executives from leading service providers, industry analysts, journalists from
Pipeline
and other industry colleagues looking to enjoy the festivities and learn about the leading edge of integrated communications and entertainment (ICE) technology.