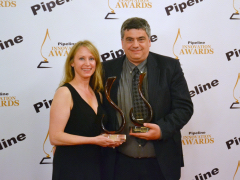 Nakina Systems took home two trophies for Innovation in Security and Most Innovative Technology Provider
On the CSP side, our industry analyst judges evaluated both wholesale and consumer-focused providers of communications services to examine the extent to which they have made innovative thought part of their organizational fabric, how they have used that passion for innovation to deliver services to their end users, and how they have extended the reach of communications and entertainment services. (It should be noted that our CSP judges were not involved in judging these categories for obvious reasons.)
Canadian provider Allstream took home the award for consumer CSPs for its lean, business-focused approach and its efforts to extend its fiber network across Canada, while US provider and former Innovation Award Winner AT&T landed the runner-up spot for its consistent encouragement on internal invention and consistent technical exploration. On the wholesale side, Global Capacity took the winning spot for combining widespread network reach with real-time, transparent network information available to customers. Runner-up Megaport also deserves recognition for its modular features, which can be configured and used in different ways to meet widely-varied customer needs between Australia and Southern Asia.
Finally, Pipeline's editorial team wanted to make sure that any of the 150 entries that may have narrowly missed recognition got a share of the spotlight through our Editor's Choice category. In the end, we went with Procera.Our team has been impressed by their work in virtualization, as well as innovative approaches they've shown for getting around tricky problems (such as using an applet that runs on the mobile operator SIM card to get device analytics and location data without violating privacy concerns). They also recently took a bold step to go private in order to have greater agility and flexibility to innovate.
Our runner-up was GENBAND, a recently named member of the CNBC "Disrupter 50" that is innovative on numerous fronts. It was its approach to real-time customer service that got CNBC's attention, but it has also excelled in sustainability and many other areas while staying grounded in the legacy world through its ownership of Nortel assets.
Parting Thoughts
None of these decisions were easy, of course, and we salute everyone who had the courage to submit an entry and endure the rigorous evaluation process. We've learned through the exposure to the latest technical advancements which will be included in many of the near term issues of Pipeline.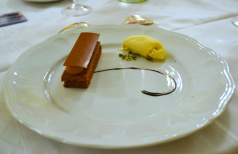 Over the course of that lovely evening in Nice, we were delighted to share a room and a meal (and Royal Desert) with so many forward-thinking individuals. All those present are the ones responsible for shaping the industry. It was a pleasant feeling to know that the person across the room or across the table may eventually be responsible for a major shift in the way we communicate. In fact, there's a chance that they've already changed the way we send and receive information and stay in touch with loved ones and business partners worldwide.
And it was an important validation of the 2015 Innovation Award program to see opportunities emerge between judges and contestants at the reception. To date, five RFPs have been issued to contestants - showing that the Innovation Award program truly brings together the world's leading operators with the world's leading technology developers.
We can't wait until next year; and if you can't either, check out our Super Early Bird Nomination Form.
Thank you for all the memories, and until next time, bonsoir!