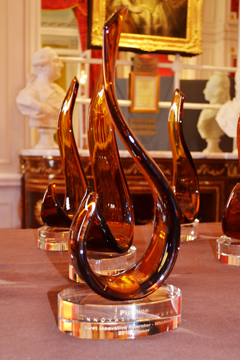 In the category of Innovations in Big Data & Analytics, judges were faced with two solutions that exited the semi-finals in a near dead-heat. Digital Route's OSS Mediation solution is built on the idea that all the Big Data storage in the world is useless if you don't have good data flowing in. The product introduces a normalization layer to OSS data similar to that which BSS data has had for years. Data is tagged as important based on a variety of factors, and only that important data is stored, reducing data loads by 80%. This, coupled with Digital Route's extensive deployment history and heritage in mediation, made them a strong contender.
Apptium's Intelligent Data Manager received the nod in the Big Data category, however, thanks to a number of attributes. It eliminates the need for data pre-processing thanks to Map Reduce features, and ensures that all data sources are available for exploratory analytics in a user-friendly manner. It features a "Question Generator," which allows users to ask questions of the data similar to the way a consumer would shop online. The fact that they were able to overcome such steep competition from Digital Route is a testament to their innovation and the objectivity of the Pipeline Innovation Awards program.
For Innovations in Customer Experience, Nokia took its second award, this time for its Customer Experience Index (CEI). CEI helps providers get an accurate handle on how their customers are feeling about their services without falling victim to the time gaps found in other survey approaches. This approach measures the customer experience from a customer's actual perception of their service experience, and enables operators to drill into factors where KPIs and Net Promoter Scores may not be indicating an issue. The runner-up in the category, JDSU's TrueSpeed VNF, was also truly impressive, focusing instead on proactively resolving customer complaints by measuring the customer experience by simulating actual traffic, not just generic speed tests, to identify performance issues.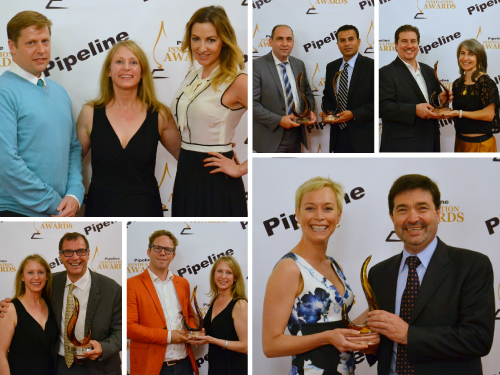 (Clockwise from top left) John Riordan and Nicole Hayward of OnSIP, Ray Lahoud from Allstream with Rick Kapani from Apptium, Scott St. John from Pipeline with Elisabeth SimĂŁo of Global Capacity, Kate Haley from Accurate Always with Ian Coleman from BT, Thomas Vasen from Procera, and Eric Janet of GENBAND.

In the Innovations in Security & Assurance category, the finalists were Accurate Always with its Voxida CenterSecure solution and Nakina Systems for its Secure Network Auditing Platform (SNAP). Both are new solutions, with CenterSecure focusing on tracking all events and interactions that may prevent or have led up to a breach for analysis and compliance with external investigations. SNAP, meanwhile, focuses on identity access management strategies, and its holistic approach handles a wide variety of network equipment and helps to protect against threats that are internal and external, intentional and accidental. This holistic view helped push Nakina past Accurate Always in a close race to receive the award in this category.
This holistic approach to innovation also helped Nakina (pictured on the next page) bring home the award for Most Innovative Technology Provider, edging past runner-up Comverse. We applaud both companies, however, for making innovative thinking such a fundamental part of their respective organizations and approaches to the development of cutting-edge products and solutions.