The judging was extraordinarily close. In four categories 'ÄĒ Security, Networking, and both CSP categories 'ÄĒ the winner came down to just a single vote.
We were particularly honored to be joined by members of the 2015 Innovation Awards judging panel, several of whom presented the Innovation Award trophies over the course of the evening.
The identities of the judges were kept under wraps until the award recipients were announced, and we were happy to use the event as an occasion to 'Äėunveil'Äô the judges, thank them in person for their diligent review of the robust submission packages. Award presenters included Kevin O'ÄôBrien of Comcast, Ian Coleman of BT, Elisabeth Sim√£o of Global Capacity, Jeff Mitchell of UST-Global, Nancee Ruzicka of ICT Intuition and key members of Pipeline.
This year, instead of tickets to the reception, guests were given bracelets with a unique icon signifying the Power of Innovation to identity them as those driving innovation forward.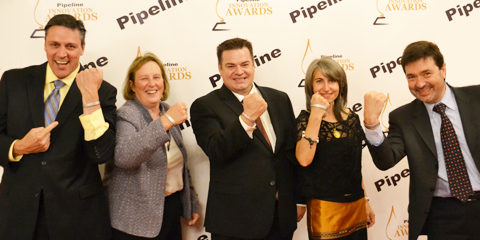 (Left to right) Judges from Comcast, ICT Intuition, UST-Global, Global Capacity, and BT show off their
"Power of Innovation" bracelets on the red carpet
The Finalists and Winners
Both the judges and our editorial team were legitimately impressed by the forward-thinking solutions we saw on display through this program. And while only one winner could emerge from each category, we want to emphasize that semi-finalists and, especially, runners-up were all tremendously deserving of praise. All of the innovation submitted, and particularly those that made it to Semi-finalist or beyond, are worthy of recognition; and we are looking at adjusting next year's program to specifically recognize those submission that missed being a finalists by a fraction of a point.
Our most heavily entered category was Innovations in Business Support Systems, in which a large pool of entries was narrowed down to seven semi-finalists and two finalists. Ericsson was chosen as a finalist for its Catalog Manager solution, which has been deployed to great effect by CSPs around the globe. We've been big fans of unified catalog solutions for some time as time- and cost-savers. Ericsson's solution is particularly effective, especially when paired with that organization's widely deployed Charging System.
In the end, however, CSG International won our judges over with CSG Ascendon. It's innovative in so many ways. It enables CSPs to leap into the digital services space and compete with the OTT players with a light, quickly configurable overlay that works with existing systems, allowing rapid launch without massive infrastructure change. It's a quick, relatively painless way for CSPs to compete in new ways, and it is the judges' pick for the Innovations in Business Support Systems category.
For the Innovations in Operational Support Systems category, we were interested to see how our judges thought Overture's Ensemble Service Intelligence (ESI) solution stacked up against NetCracker's Service Fulfillment & Assurance offering. While the Overture ESI was very compelling in its ability to harness NFV, the NetCracker solution featured easy third party integration and the ability to handle virtualized and physical infrastructure alike within a pre-integrated, end-to-end solution. This seems to provide the edge to NetCracker who took home the winner trophy for this category.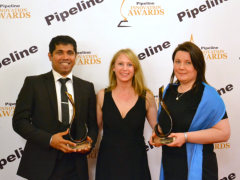 Nokia's Jai Thattil and Pia Lukkarinen with Pipeline's Paula Zimmerman, after winning in both the Innovation in Networking and Innovations in Customer Experience categories in this year's competition.
In the 'ÄúInnovations in Network Technology'ÄĚ category,
Cisco's
Network Services Orchestrator (NSO), enabled by Tail-f, offered a model-driven, highly automated, highly flexible solution for handling provisioning and activation functions across dynamic networks. Judges agreed that this was a forward-thinking approach, but ultimately selected
Nokia
Telco Cloud Management as their pick in the category. Nokia has done so many things right in the cloud, and this solution is composed of a full cloud-based OSS suite (NetAct), an entity that automatically deploys, configures, and optimizes network services (Cloud Network Director), and a solution that manages cloud applications (Cloud Application Manager).