Mobile operators have the ability to offer mass customization in the way that Nike has, and to deliver unique "experiences" based on customer preferences, demographics and location.
We've heard a lot of companies talk about real time analytics. What makes your approach different?
Charlie: I'll provide the "color" and let Chris delve into the data science.
Consider this example of the difference between partial approaches that are strictly rules-based, and true real-time analytics. You've probably been at a store and attempted to make two consecutive purchases using the same credit card, with the second one getting denied. Why? Because a business rule identified the second charge attempt as a likely fraudulent transaction. Many organizations, especially financial institutions, have hundreds or thousands of these rules being applied in real time. Unfortunately, such a pure "by the rules" approach commonly ignores the context of a situation. And in the mobile environment, that can lead to arbitrary decisions that undermine the customer relationship and turn "thumbs down" on new revenue opportunities.
Chris: To avoid that kind of scenario, our solution draws data from multiple sources – heuristic or historic (the past), trending or predictive (the future), and real time (the present) using streaming data. The solution is highly extensible and scalable to handle 50,000 data points per customer and – overall – billions of transactions.
What is the specific value of real time analytics for mobile operators?
Charlie: Mobile operators stand to benefit in three areas: retention, sales and advertising.
The first, as mentioned, is through increased customer loyalty, longevity, and profitability – selling beyond the payback period and avoiding replacement costs, by which I mean replacing a churned customer with a new customer.
Second, real time analytics provides the mobile operator with up-to-the-moment data on what the customer wants or is most likely to purchase that very second – opening significant new up-sell and cross-sell opportunities.
The third value comes from additional advertising revenues – whether in a CPM, CPC, or CPA model. Real time analytics lets the mobile operator create micro-targets for their advertising group, which can then intelligently divide and sell digital advertising space, charging a premium for this precision targeting. Industry analysts forecast a ten-fold increase in revenue in mobile advertising over the next five years as a result.
What are some examples of apps you're developing for Real Time Analtyics?
Charlie: We are focused on four areas where real time analytics will provide enormous value to our clients:
Sales & Marketing – our apps are used for Proactive Customer Experience and personalized Ad Delivery.
Finance – our apps improve Customer Lifetime Value by squeezing incremental value out of each customer interaction through Treatment Optimization.
Operations – our app generates LOQs (lines of questioning) dynamically to improve customer service and vastly improve first-call resolution rates.
Network - our apps focus on trigger-based events to proactively improve the customer experience, and address issues before the customer reaches a breaking point in satisfaction.
Can you walk through how real time analytics works?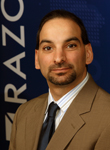 Chris: At the moment of the interaction, the solution gathers new real time data attributes such as the answer to a live question, recent usage data, or interaction with an IVR. The solution proceeds to create thousands of analytic attributes by merging new data with historical data in real-time, and applies statistical algorithms. Then uses scoring algorithms and categorical models created to apply additional statistical or heuristic business logic. Finally, an arbitrage engine parses and prioritizes the results for use.
Typically, the best results come from a combination of absolute business rules and real time analytics. The solution then delivers the result to the end user in seconds. Ultimately, Razorsight will cut that delivery window to a sub-second response time.
For feedback that adds more intelligence on a customer, the system takes input from an end user, for example, if he or she declined the offer, or requested new information – and why.