Telcos must become digital service retailers and compete with a much wider field that includes other operators, internet players, insurance companies, banks.
VoLTE
Voice over LTE (VoLTE) was heralded as the bees knees; but as 2014 begins, only a handful of global operators have deployed the technology, and it appears unlikely that VoLTE will make a significant improvement to operator profits in the near-term. There are several reasons. First, a significant LTE network footprint is required to support the technology. VoLTE is not backwards compatible to CDMA (sorry Verizon), so VoLTE calls will drop rather than fall back to legacy CDMA in the event of LTE service interruption. Secondly, LTE in high bandwidths performs poorly in terms of in-building penetration, which means calls in the garage or basement are likely to be of lower quality compared to 3G calls. There are also reports that VoLTE rapidly drains batteries, and the little dilemma that few VoLTE capable devices are on the market. The bottom line is that no wants to roll out a next-gen service that features dropped calls, flubbed fallback and dead batteries. Commercialization of VoLTE is unlikely until next-generation network development plans, such as AT&T's Project Velocity IP, are further along.
Mobile payments and

near-field communication (NFC)
Mobile payment services are growing and increasingly mainstream, but who's best positioned for the future? According to Deloitte research, service providers on their own don't have the best case to win in the mobile payment, as you can see in the figure below.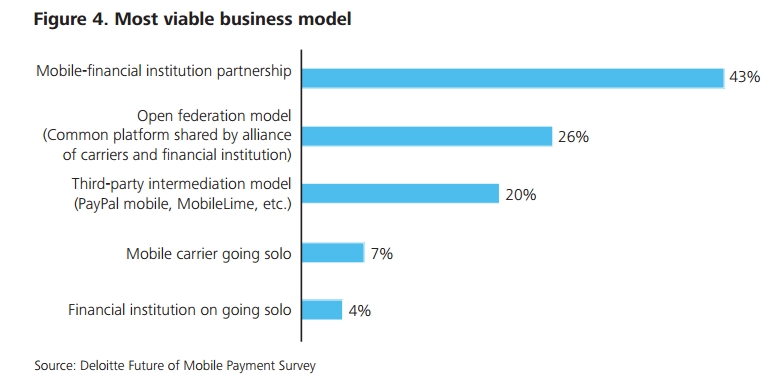 As is the case with OTT services, CSPs should focus their efforts on enabling the mobile payment ecosystem and seek partnerships with trusted financial institutions and OTT payment platforms with a significant revenue and user base, like PayPal.
In the US, MNOs joined up to form their own NFC-based mobile payments and mobile wallet service: Isis. Unfortunately Isis has languished in two test markets and failed to gain momentum. Capital One withdrew its support for the platform in September, after deciding that the Isis road was a dead-end.
Perhaps part of the problem is the focus on NFC. The technology has enjoyed some limited success in emerging markets and APAC (Asia-Pacific); but, overall, it really has not lived up to the hype. According to a Gartner report published in May, 2013, NFC accounted for just 2 percent of mobile transactions in 2013, a figure Gartner predicts will only grow to 5 percent by 2017. "Whatever potential NFC had as a financial transaction tool is dwindling quickly because of this war between industry heavyweights," wrote Kevin Fitchard in Gigaom in September.
New mobile opportunities require new strategies
For CSPs, all of the mobile opportunities in 2014 possess one commonality: monetizing mobile for the long haul requires a perceptual shift. The skill sets that served CSPs in the past won't cut it in the future. Telcos must become digital service retailers and compete with a much wider field that includes not just other operators, but also internet players, insurance companies, banks, and more. This requires new strategies, new staff, and new support systems. For instance, as networks evolved to support software defined networking (SDN) and network functions virtualization (NFV), programmers with experience in these technologies must be hired. Real-time convergent billing and charging systems must be implemented to afford the kind of agility the market requires.
Strategically, service providers must examine each opportunity and weigh it against their assets and expertise to determine whether partnering, ecosystem development, or unilateral service and development commercialization makes the most sense. In the Deutsche Telekom examples cited above, partnering with popular mobile apps was DT's strategy for OTT coopetition; but when it came to advanced mobile encryption, DT chose to go it alone. Some industry-led partnerships, like joyn and Isis, have failed to deliver, while others, like the M2M World Alliance, are rolling out real solutions. In other cases, like mHealth or connected car, curating an ecosystem may be the best path.
There are many paths forward for mobile opportunities that lead to short- and long-term success, but one thing is for certain: mobile has changed the face of life on Earth and will be a component of nearly every tech success in the foreseeable future. As the purveyors of mobile ubiquity, CSPs that retool their businesses to become mobile lifestyle providers will undoubtedly succeed.