The Most Innovative Service Provider category looks at those that provide communications and entertainment services and contemplates their dedication to innovation and the impact they have had to how we communicate as a global society. While both of the Most Innovative Service Provider and Technology Provider categories are voted on by external judges, the Editor's Choice category is unique in that it enables Pipeline to recognize companies based upon its unique perspective of all nominees, submissions, and companies across all categories. It also enables Pipeline to

highlight

the companies that are worthy of recognition for their innovations in other categories where only two finalists can be selected.

Genband's Eric Janet and Daniel Blais accept
the COMET Award for Editor'sChoice.
Genband, who was a formidable semi-finalist in the Most Innovative Technology Provider category, took home the COMET for Editor's Choice as a result of the innovation engrained both in its technology and throughout its organization. The runner-up for Editor's Choice was Comverse, who was also a key competitor in the Innovations in Technical Developments category where it showcased its Evolved Communication Suite (ECS) which helps operators transform IP-based services and enable and better compete with over-the-top (OTT) offerings.
AT&T won the Most Innovative Service Provider category by demonstrating that innovation is very much alive in well within this communications pioneer. Their most recent "mobilize everything" strategy is supported by the company's continual network investment, investment in innovations within their Foundry innovation labs, and its application of advanced technologies such as self-optimizing networks (SON). Their multi-device and multiple vertical industry strategy embraces the future Internet of Things (IoT) and illustrates the global push towards pervasive and ubiquitous connectivity. Global Capacity was the Runner-up for the second year, having been Runner-up as a service provider in the Innovations in Networking category last year.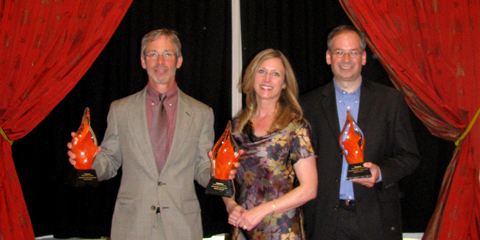 Ericsson sweeps three categories in the 2014 COMET Innovation Awards. Accepting the awards are Grant Lenahan, Executive Director of Innovation and Robert Emery, Product Management

The final category of the night was Most Innovative Technology provider. The winner of this category would win a COMET trophy and take home the prize worth over $50,000. This year, the competition came down to key competitors: Ericsson and CSG International's Content Direct organization. Both had demonstrated their technical prowess in other categories and both had innovation running through the lifeblood of their companies. Both provided excellent submissions, including impressive deployment examples and customer engagement methodologies. In the end, less than one point separated them on Pipeline's unofficial scorecard which is used to help select the finalists for each category but is not provided to the judges who vote on the winners. In the end, Ericsson's Agile Operator strategy prevailed as the judges, including key executives from AT&T and British Telecom, voted them the Most Innovative Technology Provider of 2014 giving them an unprecedented third COMET award of the night.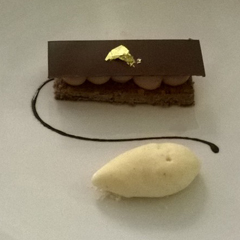 As guests reveled at the results, the final course was served; a reinvention of the Manjari chocolate mousse that was once served at the Royal Opera, sandwiched between a vanilla and chocolate sponge cake and topped with a handmade bar of rich chocolate - garnished with 24-karat gold leaf and accompanied by fresh vanilla bean ice cream. A dessert so decadent - people were observed taking them from other tables and even mine fell victim to the hungry eyes of those seated at my table. After a single bite of my replacement, I not only completely understood, I found the incident to be entirely justified.
Courtesy of Dmitri Lozdernik, chocolate lover at Microsoft
As the evening concludes the 2014 COMET Award recipients clamor for photographs while other distinguished guests enjoy conversation garnished with provincial wine and I have a moment to reflect. It has been a truly grand evening and a true celebration of those that are changing the industry and the way we communicate as a global society. It's also been the culmination of many people and much hard work that encompasses every competitor, members of the Pipeline team, and the external judging panel. It's with earnest heartfelt thanks that we underscore our appreciation for all those who made this year's COMET Innovation Awards program so vibrant and we wait in eager anticipation for next year's competition.