Even with this level of scrutiny selecting Finalists still proved challenging, with as little as a fraction of a point separating one contestant from another...
The world's largest technology companies and most nimble innovators are all present. Delegates from Aptilo Networks, Amdocs, comScore, Comverse, CSG International, Ericsson, GENBAND, Nakina Systems, NetCracker, Nokia, Microsoft, Tail-f, and TIERONE are to be joined here with executives from Allstream, AT&T, Comcast, Global Capacity, Time Warner Cable and many others. Conversations can be overheard as those in attendance discuss the latest industry trends, market shifts and advancements in technology along with the beautiful view and weather. The room is filling with excitement and conversation as the curiosity builds and the COMET Award Finalists contemplate their chances at championing their respective categories.
At six o'clock, an announcement cuts through the commotion and attendees are escorted into the Grande Rotonde where the spectacular architecture is married with a robust and eclectic art collection. Le Negreco's General Manager takes the burgeoning crowd on a tour of the most notable pieces on the way to dinner while providing a narrative of the hotel's unique history.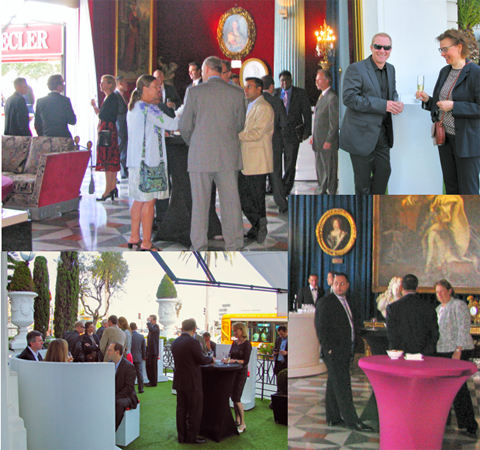 The COMET Innovation Awards were intentionally designed to recognize innovations in communications and entertainment technology (COMET) and elevate the significance it plays in our global society. As not to lose sight of how this technology brings us closer together as a worldwide community, this year
Pipeline
selected ten areas of innovation that signify the state of the industry and embody the latest technical advancements. This year, the categories of the COMET Innovation Awards were:
Innovations in Technical Developments
Innovations in Support Systems
Innovations in Networking Technology
Innovations in Cloud & Virtualization
Innovations in Big Data & Analytics
Innovations in Customer Experience Management

Innovations in Security & Assurance
Most Innovative Service Provider
Most Innovative Technology Provider
Editor's Choice

The COMET Innovation Awards program was also specifically designed to provide the most objective and highest level of industry validation for these areas of innovation. The contestants complete extensive questionnaires for each entry they submit and provide detailed information which can include interviews, demonstrations, customer references, deployment examples, and supporting information such as whitepapers, videos, brochures, and presentations. This is in addition to the poignant questions that center around each category subject and hone in on tangible measurements of innovation such as unique inventions, intellectual property, and patented technology used in each submission. Some individual submissions included nearly 15,000 words and
Pipeline
received gigabytes of supporting material across all categories – all of which was meticulously reviewed and scored by
Pipeline
's seasoned editors. This year, the 2014 COMET Awards program encompassed over 200 nominations representing more than 150 nominated companies. From these, less than 30 semi-finalist were confirmed and the Finalists for each category were selected from the best submissions within this group.