The Most Innovative Technology Provider category is intended to recognize the company that best embodies and embraces the true spirit innovation
As guests finish their first course, butlers complete with coat tails and white gloves cut through the center aisle in a procession to escort the next round of COMET awards on stage for presentation. Plates were cleared away as the next group of categories including Innovations in: Support Systems, Customer Experience Management, and Cloud & Virtualization were readied.
In support systems, two industry giants faced off: Amdocs and Ericsson. Amdocs asserted its Network Navigator product which provides and intuitive visual view of network inventory and enables more users to leverage this information to improve customer care, trouble shooting and network planning. Ericsson, after a wave of acquisitions and facing a transition to virtualization, put forth an end-to-end approach it calls its Service Innovation Framework. Service Innovation Framework combines Ericsson's 100+ years of network experience with its OSS, BSS, and CRM products under its Agile Operator initiative.
Ericsson was also a COMET Innovation Awards finalist in the Innovation Cloud & Virtualization category where they faced TIERONE. TIERONE presented its NETPortal solution for managing and provisioning physical and virtual network resources. The NETPortal solution provides comprehensive correlation of these assets to services and integrates with other systems for customer care, fault management, and more. Ericsson presented its Cloud Manager product which allows operators to turn their physical and virtual assets into elastic and dynamically-scalable networks that can be used to support quality and service-level agreements for cloud services, thereby making enterprise cloud service more viable.
In the Innovations in Customer Experience Management category, Amdocs squared off against Netcracker. Leverging its extensive market research and customer deployment experience, Amdocs created a multi-device, multichannel self-service platform leveraging state-of-the-art design principals. Netcracker submitted its Customer Experience Management (CEM) solution which correlates the customer to service to resource relationship to measure and prioritize issues affecting high-value and influential customers.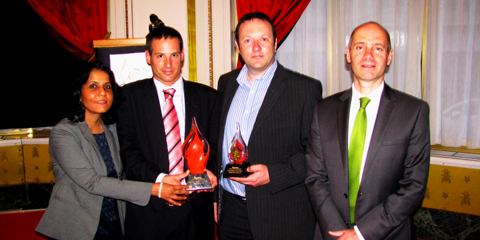 Amdocs wins a COMET for Innovations in Customer Experience Management and is Runner-up in Innovations in Support Systems. Left to right: Nibha Aggarwal; Tzach Segal; Ashley Woods, and Peter Linton
The 2014 COMET Award recipients made their way to the stage as Winners and Runner-ups were announced for each category.
For Innovation in Support Systems:


Ericsson wins
Amdocs is the Runner-up

For Innovation in Customer Experience Management:


Amdocs wins
Netcracker is the Runner-up

For Innovation in Cloud & Virtualization:


Ericsson wins
TIERONE is the Runner-up
After the awards are presented and the cheers begin to fade, attendees are served their next course: a delicious melody of honey-glazed roasted duckling and thinly sliced and stacked turnips glazed in raspberry vinegar and served with marinated potatoes. Conversations pick back up where they left off as the next and final round of awards are escorted to the stage.

The final round includes three significant categories: Most Innovative Technology Provider, Most Innovative Service Provider, and Editor's Choice. Most Innovative Technology provider not only looks for technical innovations produced by technology developers but also at how innovation is embraced throughout their organization. The Most Innovative Technology Provider category is intended to recognize the company that best embodies and embraces the true spirit of innovation, and it's why Pipeline added a prize worth over $50,000 to the winner of this category this year.