Microsoft continued its rebellious streak by shaking off the perception of the Microsoft you once thought you knew
Each submission is objectively scored and the data is then normalized to tone down certain areas related to the company and amplify answers related to the category and areas of innovation. This ensures that those who make it through this round are not only market leaders but true innovators in their respective categories. Even with this level of scrutiny, selecting Finalists still proved challenging, with as little as a fraction of a point separating one contestant from another in some cases and so many true innovations and innovative companies entering the competition this year. All contestants are truly deserving of recognition and the spirit of innovation was a consistent thread woven throughout each submission
Pipeline
received this year.
Once Finalists are selected, their complete submission packages (including supporting material) are provided to the an external judging panel which is comprised of key executives from service provider and analyst companies who vote on which Finalist should be awarded the COMET trophy. This provides an additional layer of objectivity and combines
Pipeline
's industry expertise with that of the in-depth market perspective from the analyst community and specifically target-market validation from the service providers who use this technology to transform the way we communicate. Abhi Ingle, who is entrenched in the innovations occurring in AT&T's Foundry innovation labs, was one of the judges serving on this year's panel.
"Without innovation, our industry will not progress forward. AT&T is committed to nurturing and recognizing companies making contributions to the advancement of technology," said Abhi Ingle,
Senior Vice President
,
Advanced Solutions, AT&T Business Solutions. "AT&T was honored to be part of these awards and review the many innovations in this dynamic space."
The COMET trophies are handmade glass sculptures uniquely created each year to symbolize the spark of innovation and recognize the industry's leading innovators. To receive a COMET trophy, a company must demonstrate a technical sophistication and spirit of innovation that surpasses all others. As guests enter the Massena Room at Le Negresco, the COMET trophies are arranged as a focal point in the center of the room to illustrate that innovation is at the heart of all those that are in attendance and the evening ahead.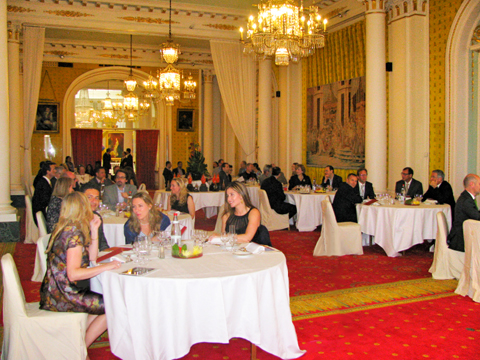 The first four award categories are presented after a brief welcome and an introduction that emphasizes that the evening is a celebration of those that are in
attendance: the
industry's top technical innovators. The categories spotlighted in the first group include innovations in networking technology, technical developments, big data and analytics, and security. The first category pitted Aptilo's solution to authenticate non-SIM enabled devices over Wi-Fi networks against Nokia's Flexi Zone small-cell solution which enables operators to add capacity by essentially putting the functionality of macro wireless base station into the size of a pico cell. Also in Technical Developments, Nokia presented its Centralized RAN solution which links multiple base stations together and turns interference into usable capacity against Tail-f's Network Control System - which is a carrier-grade and deployment tested next generation OSS system that bridges the gap between traditional and virtual networks using a high-degree of standards-based interoperability.