By: Becky Bracken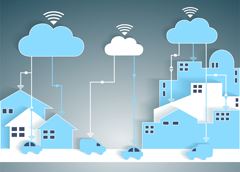 The Internet of Things (IoT) imagines a world where everything from street lights to the toothbrush next to your bathroom sink is connected to a communications network. Heck, even the bathroom sink will probably be connected one day. The telecommunications industry is stoked on the idea of connecting a practically infinite number of devices to their networks and charging for the pleasure. Major carriers and service providers are serving as incubators for the next wave of devices to connect to their network and hope to help an entire new wave of inventors connect nearly every aspect of our daily lives--no matter how critical or mundane.
According to researcher IHS, global connected devices are predicted to pass 6 billion units in 2014, and Worldwide production of connected equipment will hit 6.18 billion units this year, up 6 percent from 5.82 billion in 2013.
"The improved growth this year of the connected devices industry marks the return of higher production as manufacturers deliver all sorts of connectivity equipment to users," said Jagdish Rebello, Ph.D., senior director for information technology at IHS. "Given the voracious appetite of consumers for social media and their yen for always-on connectivity, it's little surprise that makers will continue to turn out such devices to keep buyers engaged."
Here are a few of the devices getting hooked up, going smart and coming soon.
Parenting: There's an app for that
For parents who can't spend every second with their kids, here are a couple of devices to help keep track of them and make sure their time is being spent on healthy activities.
FiLIP Smart Locator
First, AT&T is offering a new FiLIP Smart Locator for kids between the ages of 5 to 11 years old and combines GPS, Wi-Fi and a wireless network into a colorful, waterproof watch that lets you track and communicate with your kids in real time whether they're at school or dance class. For $199 AT&T will sell you the device and connect it to a data plan for additional $10 per month. which connects to parents through a smartphone app and gives them unlimited two-way voice calling so that they can talk or direct message with their children at any time.
"FiLIP is an innovative approach to solving an issue that parents have always faced," said Chris Penrose, Senior Vice President, Emerging Devices, AT&T Mobility. "How do you stay in touch with your child, while still allowing them to be free to be a kid? FiLIP is convenient for parents and practical for children."
Parents can program up to five trusted contacts with whom the child can communicate, and set SafeZones, triggering a notification if the child enters or leaves a designated area, and features an intelligent emergency procedure to locate the child and put them in touch with family if needed.
Leapband: Kids Fitness and Activity Tracker
The Leapband from Leapfrog is a smart arm band designed to track kids activity and encourage them to get moving. Through a smartphone app, parents can track how active their kids are, and even present them with challenges to encourage more activity. The Leapband also encourages fitness by letting kids earn points for activities and making fitness into a game.
Everyday life: Made better
Oral B Smart Toothbrush
For those among us who want their dentist to constantly monitor the quality of our oral hygiene, there's the bluetooth-enabled Oral B smart toothbrush, which was introduced at this year's Mobile World Congress . Through an app for Android and iPhone, data on tooth brushing is collected, reported to your dentist and even provides tips on how to get the job done smarter and faster.
"The GSMA Connected City was created to showcase the most innovative developments in mobile technology and demonstrate how they will have a positive impact on people's lives. So we are delighted to welcome Oral-B," said Michael O'Hara, Chief Marketing Officer, GSMA. "The progress of connected devices and machine-to-machine communications continues to grow at an incredible pace, shaping the world around us and we hope that visitors to the City will be inspired by what they see this year."