By: Shane Menking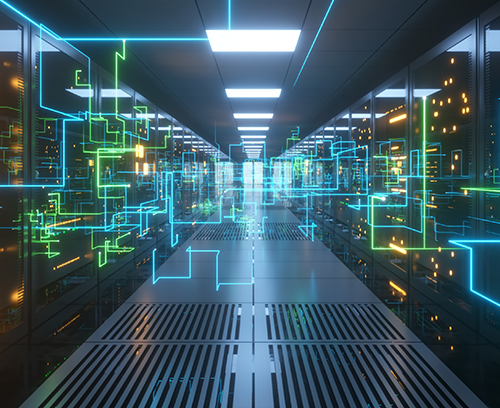 The digital infrastructure industry has seen tremendous growth, fueled even further by the many resources that helped support businesses during the COVID-19 pandemic. As the demand for cloud-based applications continues to grow, solutions for cloud computing, SaaS, ecommerce, gaming, and video services remain in high demand. As a result, hyperscale data centers are beginning to play a major role in everyday business IT operations to support the IT infrastructure of our digital world.
According to a report from Synergy Research Group, more than 100 new hyperscale data center facilities were built in 2020. The hyperscale operators Amazon, Microsoft, and Google collectively account for over half of the major data centers and continue to drive growth today.
This growth of hyperscale data centers has been a rising trend. Synergy Research also indicates that over 70 percent of hyperscale data centers are in facilities that are leased from data center operators or owned by the hyperscale operators themselves. As the data center industry lunges toward a construction pace that can keep up with the exponential growth in cloud computing, third-party providers that formally built custom data center space or hosted IT stacks for large enterprise deployments of 500 kW to 3 MW are now lured by the appeal of building or selling space to hyperscale customers. The reason is that these deployment opportunities come in multi-megawatt (MW) sizes, ranging as large as 10 to 30 MW data centers. The growth of hyperscale data centers is responsive to the demand for scalability and high-volume data computing. Certainly, it is easier to service a single massive customer than many small customers.
As data center owners and operators shift their focus toward these hyperscale customers and larger deployments, what does this mean for enterprise businesses that still require third-party data center services but don't want to be fully deployed in the cloud? And how do these businesses navigate the changing marketplace?
Optimizing enterprise operations
As large enterprises shift to cloud-based applications and hybrid IT operations, hyperscale data centers continue to increase their market share to support the growing cloud ecosystem. However, this has created a service gap in the data center landscape.
In the past, enterprise businesses managed their own on-premises data centers or outsourced to a third-party colocation provider. Businesses that required a larger data center space would select a provider to build-to-suit a custom environment. The emergence of cloud computing has transformed computing and data storage. Now businesses can leverage hyperscale assets in the cloud, built to scale quickly and capable of handling massive amounts of data.