By: Bhushan Joshi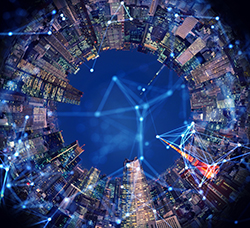 The demand for 5G is only growing. As communications service providers (CSPs) work to roll out the next generation of cellular technology, they face the challenge of doing so without energy use—and costs—skyrocketing. If 5G is deployed in the same way as 3G and 4G, energy of mobile networks would increase dramatically. In fact, some providers have estimated that their energy consumption will double to meet increasing traffic demands. Because over 90 percent of network operating costs are spent on energy needs, an energy spike like that is not sustainable from either a cost or environmental standpoint.
The idea of quadrupling data traffic without increasing energy consumption might sound like a pipe dream. But the good news is that thanks to the energy efficiency built into the 5G standard and evolving innovations in hardware and software, it is entirely possible to manage energy consumption as 5G deploys—and ICT industry players have a responsibility to do so.
As the most energy-aware standard, 5G will allow CSPs to use smart sleep modes more effectively and extend coverage by using lower frequency bands, while increasing capacity and speed with carrier aggregation. And fast, effective data transmission enables networks to return to a low-load state faster.
As mobile networks evolve, we must not only consider things like speed, throughput, and latency, but also energy efficiency as we create the network infrastructure of the future. By taking a holistic approach and working with customers to evaluate and evolve solutions to address energy challenges, it is possible to avoid repeating the energy use spikes that have historically accompanied each new generation of mobile wireless and break the energy curve.
As 5G deployments continue, there are a few steps service providers should take to reduce mobile energy use, including preparing the network, activating energy-saving software, building with precision, and operating site infrastructure intelligently.
Prepare the network
In the past, new generations of cellular technology have typically been deployed by adding some new equipment while keeping existing network assets. As we head into the future, this practice needs to change.
Modernizing the network with the latest technology and replacing old equipment allows businesses to embrace new opportunities while seeing significant energy savings. And in low-traffic areas, modernization can yield a payback period of less than three years for energy savings alone, making it a worthwhile investment.
Every service provider has a different starting point—and a different set of priorities—when it comes to their network evolution. Network modernization should encompass every aspect of site equipment, along with the core transport and radio access equipment.
For example, upgrading from air-conditioned shelter sites to modern site cabinets that feature passive cooling, where ambient airflow rather than fans removes the heat from the radios, will significantly reduce energy consumption. Another way to cut back is by implementing solutions that allow 4G and 5G to run simultaneously without the need to add new energy-consuming hardware.
Keeping equipment on such a platform ensures the network can migrate to the most efficient technology as soon as its available.
While it might seem like it makes sense short-term to simply replace equipment piece by piece, modernizing the entire network with new equipment pays off big time down the line and is ultimately a more sustainable and cost-effective approach—and there are plenty of tools to help service providers prepare their networks for the next "G."
Activate energy-saving software
Networks across the world have shown that one of the biggest opportunities to save energy is by using software that turns off unneeded equipment when traffic is low. And the best part is that this software does not require additional hardware investments. Most energy is consumed in the RAN, so enabling service providers to automatically