By: Jesse Cryderman

"We don't need Big Data—we need femto insights from humongous data."
—Rod Randall, executive partner at Siris Capital
Few trends were hotter in 2013 than Big Data, and for good reason: over the past two years no other industry has invested more in Big Data than telecommunications. In one day, a typical tier 1 communications service provider generates and sorts through billions of CDRs (call detail records), 40 terabytes of unstructured data from Twitter and Facebook and 60 terabytes of location-based data. The vast volumes of data that are collected, correlated and analyzed by CSPs exemplify a Big Data challenge: the data is so large and complex it exceeds the limits of legacy systems.
As an overall market trend, Big Data is inarguably hot as well. The market is currently valued at more than $10 billion, and nearly every business, big or small, has earmarked IT dollars for Big Data solutions. ABI Research estimates this market will grow at
a
compound annual growth rate of nearly 30 percent through 2018, while another market-research firm, Mind Commerce, pegs the CAGR at close to
50 percent.
We know that the market opportunity is great and that CSPs are investing heavily in Big Data. But where were they spending in 2013, and what kind of tangible results are they seeing? How has the marketplace evolved, and what will the intersection of Big Data and telecom look like in 2014?
Market trends and challenges
In terms of revenue, Big Data hardware and services are generating more than three-quarters the revenue of Big Data software, as illustrated in figure 1.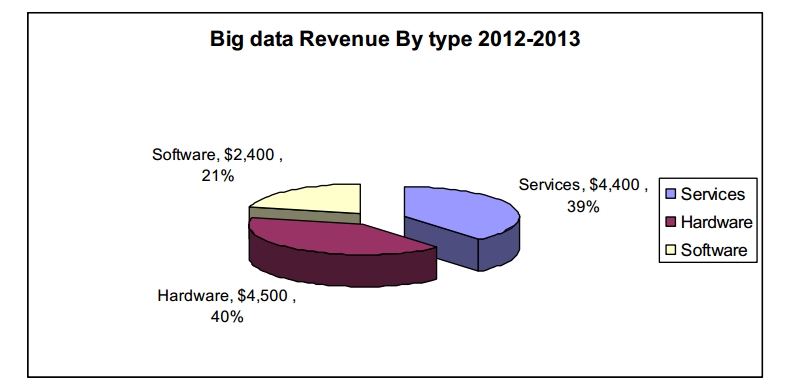 Source: Mind Commerce, 2013