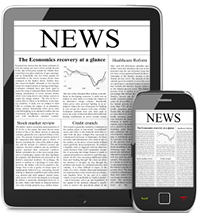 In a rapidly changing world, it's never been more important to be able to quickly enable, update, change, or adapt the business processes, tools and software behind the technology that connects us. The digital agility imperative has been our focus all month—and in this issue. We've tracked the news headlines on innovation, partnerships, IoT connectivity, network optimization, and more that highlight advances in and newsworthy updates on digital agility.
The top technology industry news stories from the month are summarized below. To view all the news as it breaks, check out Pipeline's News Center or subscribe to receive our telecom industry news summary.
Digital agility news
Agility news featured headlines on partnerships that push the limits of possibility. CommScope is collaborating with Microsoft to create a converged private wireless network solution, enabling new low-latency and mobile applications to transform industrial manufacturing. The partnership brings augmented reality applications and cloud-based manufacturing tools to factory engineers, including immersive technology training, aggregated assembly line data, and real-time remote assistance to improve production ramp times and worker capabilities.
TIBCO has leveraged AI/ML and automation to enhance its TIBCO Cloud Integration, which enables integration of applications, data, and devices across hybrid environments, helping businesses automate processes and respond to market trends faster.
Odine and HORISEN will provide strategic SMS and voice services for global operators with integration of solutions for seamless billing, invoicing and reporting capabilities.
Network news
In network news, Infovista announced the findings of a report commissioned from Mobile Experts that shows how improved modeling precision in RAN planning and design optimization can drive significant CAPEX savings for mobile operators by either increasing RAN capacity or deferring investment in additional spectrum and radio equipment. In related news, Infovista announced support for Open RAN planning with the launch of version 7.7 of Planet, which brings AI-powered, data-driven modeling and planning to O-RAN to help operators accurately model their network deployment to identify the optimal topology.
Vodafone successfully completed an advanced software upgrade across its entire global transport network, which serves hundreds of millions of users and third-party Internet and content providers in 28 countries across four continents. This boosts network capacity and security.
Zayo announced the launch of its new Zeus subsea route connecting the UK and continental Europe via access points in Lowestoft, UK and Zandvoort, Netherlands. The route includes terrestrial backhaul connectivity to London and Amsterdam. In India, STL announced a deal with a leading telecom operator to build a high-performance optical network in India to accelerate fiber densification and advance connectivity and communications.
In LoRaWAN news, Senet and IotaComm are partnering to deliver advanced wireless networks for smart infrastructure sensors to enable greater control over and visibility into smart building, smart city, and critical infrastructure applications. Senet also announced the availability of its new network-based Location Estimator, which uses the company's public carrier-grade LoRaWAN network and partners' extended coverage to provide location logic for asset tracking, location-enabled mapping, and any application that can benefit from estimated presence and proximity detection. In related network news, Openreach has rolled out ADVA's next-generation edge