Wi-Fi is the predominant form of connectivity to the Internet, the prevailing M2M access technology, and the preferred method of access for tablet users.
Roadmap for the Wi-Fi play
By now, the conundrum presented by the hockey-stick demand for mobile data is well known: how can CSPs deliver increasingly more mobile data for the same price and continue to make money? Communications service providers are employing four basic strategies to cope with the data crunch: traffic shaping (e.g. throttling, bandwidth caps, premium charging); infrastructure upgrades (e.g. LTE); backhaul upgrades; and data offload (e.g. Wi-Fi, smallcell, etc.). Wi-Fi offers many more benefits beyond offload (more on that later), but the immediate business arguments for deploying Wi-Fi are: a reduction in CapEx for wireless coverage versus 3G/4G; rapid deployment; and global interoperability.
Total operational cost savings by employing a network of Wi-Fi hotspots in dense urban areas is in the neighborhood of hundreds of millions of dollars per city. As you can see in Figure 4, Wi-Fi CapEx is a fraction compared to LTE.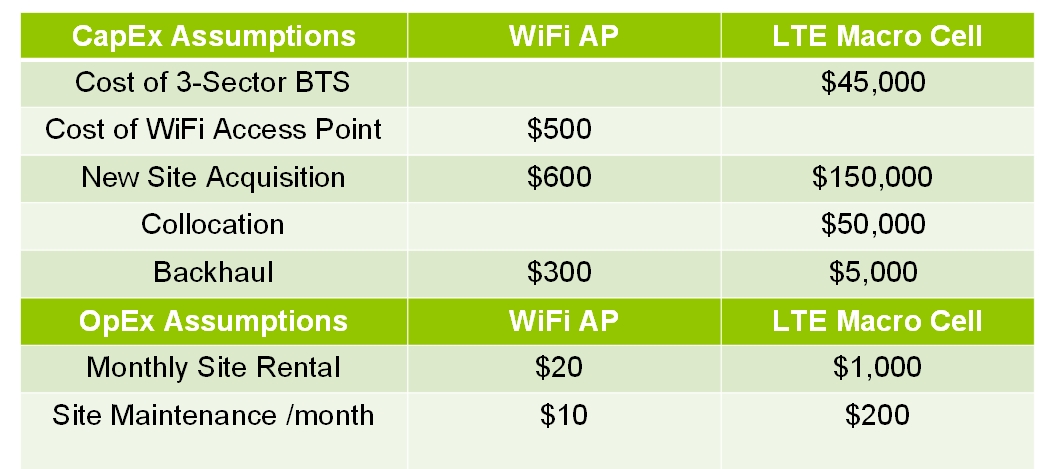 Figure 4
Source: 2012, Wireless 20/20, LLC
In terms of Wi-Fi deployment, each city presents a different case. Wireless 20/20 offers a
business case analysis tool
that models deployment plans and can help wireless service providers determine the best mix of access technologies in a particular city.
Network planning is one piece of the puzzle. Internationally, it may make more sense for CSPs to partner with Wi-Fi hotspot networks operated by other carriers, or pure-play Wi-Fi companies, like Boingo Wireless. In terms of hardware, it may make more sense to deploy hybrid base stations and femtocells that have both 3G/4G radios as well as native Wi-Fi; such gear is available from companies like Alcatel-Lucent, Ericsson, Nokia Siemens Networks, Huawei, and ZTE. And then there is the critical software component that addresses four critical functional needs: discovery, seamless authentication, security, and service continuity. These functions are outlined in the next-gen hotspot standard (NGH), advanced by the Wireless Broadband Alliance and commercialized for devices by the Wi-Fi Alliance as the Passpoint Initiative.
Carrier Wi-Fi today
Around the world, CSPs are moving fast to take advantage of both the cost savings and the increasing consumer preference for Wi-Fi connectivity. During a presentation at Mobile World Congress in Barcelona, Wang Jianzhou, chairman and CEO of China Mobile said, "Wi-Fi has proved to be a very important supplement to the cellular network." He should know; in March we learned that For China Mobile, Wi-Fi traffic grew 398 percent year-over-year in 2011. In Japan, KDDI partnered with Ruckus Wireless to boost its Wi-Fi offload capacity from 10,000 access points in mid-2011 to 100,000 this March. SK Telecom has announced the deployment of Wi-Fi integrated LTE femtocells in 84 cities. AT&T is leading in carrier Wi-Fi in the U.S., as it operates a network of more than 25,000 hotspots offering free or fee-based connectivity in airports, stadiums, McDonalds and Starbucks across the country. And in London, BT spearheaded an aggressive plan to deploy 500,000 Wi-Fi hotspots to deliver data and connectivity to info-hungry attendees at the 30th Olympic Games.