By: Jesse Cryderman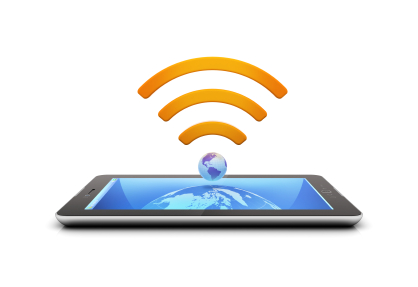 If you are reading this story over a wireless connection, chances are it is being delivered by Wi-Fi. Whether by tablet, smartphone, laptop, PC, or connected television, when users are stationary, which is 65 to 80 percent on average, Wi-Fi is king. These days, if you're anywhere near civilization, you are likely under the umbrella of Wi-Fi coverage. From small town America to the Tube in London, to flights in between, communications service providers (CSPs) are beginning to cash in on the Wi-Fi revolution, and for many good reasons:
Ubiquity: While 2G, 3G, and 4G networks around the world operate on varying standards, Wi-Fi is the same in Santorini, Greece as it is in Seoul, Korea. This means not only can CSPs offer international roaming plans to their own customers, but can partner with other global carriers to expand revenue sharing opportunities.
Lower Cost: Wi-Fi is transmitted over unlicensed spectrum, which dramatically accelerates time to market and lowers costs of operation.
Lower CapEx: The capital expenditure required to deploy Wi-Fi access points is substantially less, on average about 40-50 percent lower.
Ease of Installation: Wi-Fi connectivity is inexpensive and easier to install, and it is universally deployed in billions of consumer handsets, tablets, laptops, and other devices.
New Market Opportunities: The vast majority of M2M traffic will be delivered over Wi-Fi, according to M2M research firm Machina Research. Enabling Wi-Fi solution enables CSPs to tap into these opportunities as they emerge.
What's more, consumers are increasingly moving to Wi-Fi versus their traditional wireless networks, and this trend will likely increase as consumers react to pain points surrounding the price of mobile data, which, despite forming the foundation of most wireless operators' profit in the latest earnings reports, is being metered out at more expensive rates under new "shared data" plans. As you can see in Figure 1, for tablets and notebooks, the rate of Wi-Fi adoption is increasing, while cellular use is falling.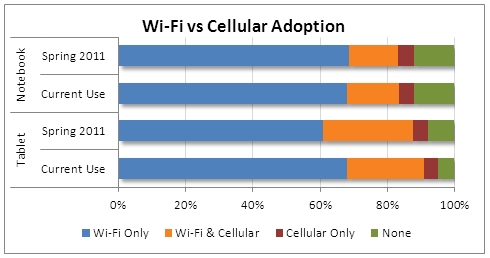 Figure 1
Source: NPD Group
The new network is as much a Wi-Fi story as it is an LTE or wireline story. Let's take a closer look at just how big the Wi-Fi boom will be and some of the ways in which CSPs can embrace the Wi-Fi revolution and overcome inherent challenges. Also, we'll take a look at how this effects the vendor landscape, and explore some new use cases for Wi-Fi.