A tremendous amount of innovation has gone into the creation and implementation of the Factory Built Network process.
This allows LightRiver Network Architects to understand a customer's unique networking priorities and to perform a targeted technology "bake-off" for each level of the network—often simultaneously. This is a huge project time-saver and unburdens customers' engineering resources. But this aspect is just the beginning of the parallel processing. As the network architecture is being solidified and the proofs of concept are being executed in our Labs, LightRiver's optical engineers are already engaged in the network design process, creating site-by-site bills of material and cost estimates for the hardware and professional services. This allows the architecture, proof of concept, and design tasks to conclude almost concurrently, with a LightRiver Project Manager keeping each task on schedule and allowing the design phase to accelerate towards the finish line.
Next comes the pre-deployment phase, where the majority of the network build tasks are completed efficiently to elevated quality standards. LightRiver closely coordinates and overlaps all tasks within this phase to ensure accelerated timeframes along with the closely monitored standards of quality. While LightRiver "factory builds" the network in our custom network staging facility, we simultaneously perform site surveys and fiber testing and then manage any required remediations. Final engineering is then completed utilizing actual fiber test results. And, once the network is fully Factory Built, it becomes the ideal instructional platform for customers requiring knowledge transfer.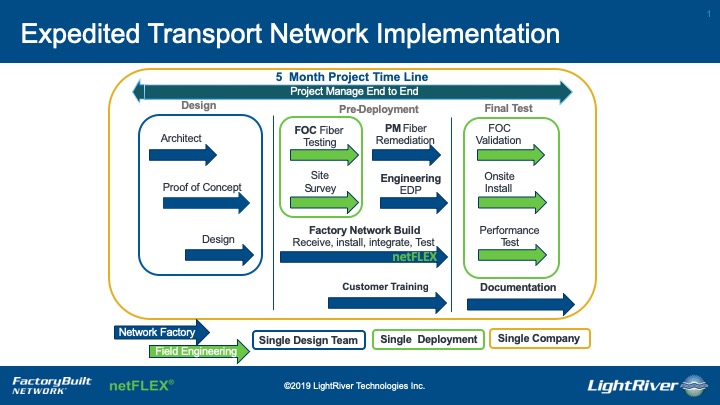 How the Factory Built Network differs
A tremendous amount of innovation has gone into the creation and implementation of the Factory Built Network process. Networks are first constructed in a specialized network factory, where they are racked, provisioned, audited, and tested by relevant experts in each technology. Then the equipment is custom-crated—with all cards, patch cords, labels, and provisioning in place—before being shipped to field locations. In contrast to a traditional field-built approach, the vast majority of the installation work is performed in a central staging facility or network "factory." This difference allows for the implementation of the most agile production process, from inventory management to high-volume construction, which expedites the project timeline. It also enables the use of experts for each step of the deployment process, and the resolution of parts, software, design or compatibility problems before the networks leave the factory.
Testing
After a Factory Built Network has been completely built, with every jumper run and circuit provisioned in the factory, it can be comprehensively audited and tested. Since it is fully deployed in a single location, it can be audited and tested far more extensively than a network deployed entirely in the field. With a Factory Built Network, quality checks can be performed on 100 percent of all labels and jumpers. The inspection of every patch cord via 400X scope can be supervised. The neatness and routing of every optical patch cord can be verified. This ultimately results in a higher-performing and more reliable network.