In a sea of alphabet soup, it's important to remember that the business of telecommunications will not be saved or defined by a single acronym.
To illustrate the disparity in the marketplace, HP's switches are Open-Flow compliant, Nuage Networks and VMWare offer software-based SDN overlays and controllers, and major NEP Cisco is pushing its own version of SDN that critics say is mistakenly hardware-based. All of these approaches are likely to gain traction in the near term, in varying operator domains. The challenge for CSPs against this backdrop is similar to the one they face today: making it all fit together to support dynamic new business strategies that deliver compelling customer experiences.
Since October 2012, NFV standardization has been driven by the European Telecommunications Standards Institute (ETSI). In October 2013, ETSI published the first round of NFV specifications as well as an extensive survey of potential NFV use cases. As you can see in figure 1 below, the advantages of the virtualized network environment are apparent.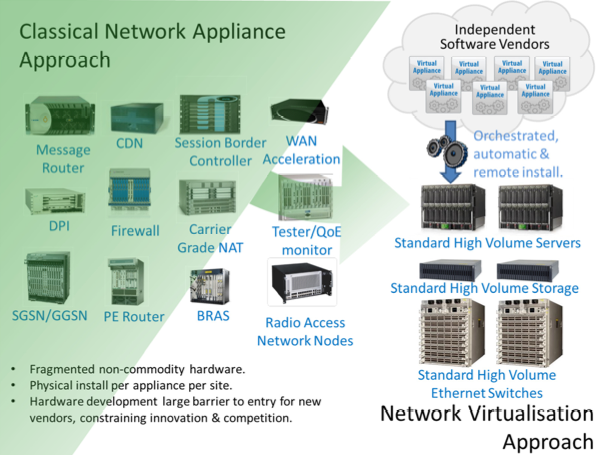 What is less apparent is what is happening in between the virtual appliances provided by multiple independent software vendors (ISVs) and the commodity hardware; in other words, the orchestration layer. That is not defined by ETSI's framework, but is a crucial element. Again, fascinating in concept, but how does it all work together?
As network virtualization takes hold, the future will likely be typified by multiple SDN and NFV technologies that function across virtual, physical and hybrid infrastructure and in both on- and off-premise implementations. The best solution going forward isn't attempting to find a silver bullet labeled with the right acronym, but finding the right OSS/BSS technology to orchestrate network virtualization and control. Additionally, the network needs to be brought up to cloud speed and not in a vacuum, but in concert with the changes occurring on the front-end of the business. Instead of focusing solely on the provisioning of new services, CSPs should examine how they consume, declare and create services alongside the various aspects of the service lifecycle, and link that through the cloud transformation that is occurring in the front office.
Integrating data analytics
Beyond the CAPEX and OPEX savings offered by network virtualization, there is an emerging opportunity for CSPs that combines intelligent data analytics with SDN and NFV strategies. For example, a virtualized policy control function could drive service changes in real time based on network events, customer events or inputs from analytics sources. The result? New services and network resource deployment can be dramatically accelerated.
Emboldened with intelligent data, services instantiated across virtual network architectures could scale up and scale down based on any number of factors, and real-time decisions could be applied by customer care, operations or marketing groups. This "living" service environment has the potential to deliver truly competitive offerings that are infinitely more powerful, dynamic and personalized than what is possible today. In essence, time-to-market could be compressed to near-real time, as new services, pricing and packages could be automatically generated, provisioned and fulfilled based on intelligent data.