By: Jesse Cryderman

The mobile revolution has been rapid and pervasive and, today, connectivity is being embedded into everything from cars and glasses to
wigs
and
cows
. As a result, digital services are moving beyond basic communication, collaboration, and content consumption into lifestyle, enterprise, and industry. Communications service providers (CSPs) recognize the great potential of this emerging connected world and are understandably excited--any new opportunity that has the ability to grow top-line revenue for an industry is buzz worthy. Machine-to-machine (M2M) communications and the Internet of Things (IoT) represent thousands if not millions of new of opportunities, so the buzz has scaled accordingly.
Telefonica succinctly defines M2M as "the technology that establishes intelligent communication between things," and that's a pretty good top-level view. But peer behind the curtain of a basic connected service, like home security, and there's a lot more happening than simple connectivity. Supporting new digital services in a profitable manner is harder than it looks. Market-leader Verizon quietly exited the home security market in February, after offering its Home Monitoring and Control for two years. In fact, the emerging digital services landscape presents a very different set of challenges than CSPs have been built to address, primarily in terms of support systems.
While it varies regionally, the average revenue per user (ARPU) of a typical wireless line of service can be roughed out at $50 per month. Some carriers, of course, achieve much higher ARPU, and others slightly lower. In the world of M2M, large contracts (in terms of end points, such as smart meters) might only generate 50 cents per SIM per month. Applications with fewer endpoints and a need for higher bandwidth, such as digital signage, might generate $10 per SIM per month.
Informa Telecoms and Media surveyed 263 M2M stakeholders in 50 countries to identify the challenges service providers face. As illustrated in Figure 1 below, the M2M business is a hat trick of lows for CSPs: low margin, low ARPU, and low return on investment (ROI).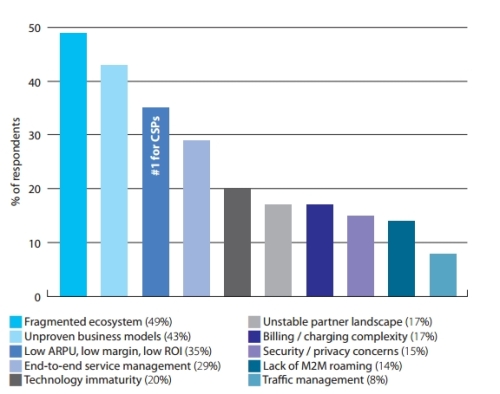 Top 10 barriers to success in M2M : Informa Telecoms and Media, 2012
If a line of service is only generating a handful of dimes every month, it makes no sense to manage it with systems that cost a fistful of dollars over the same time period. The robust, heavyweight, full-featured support stacks that enable consumer communication are not a good match for M2M. Something has to give. CSPs need support systems that are lean, nimble, and highly scalable if they are to succeed in M2M.