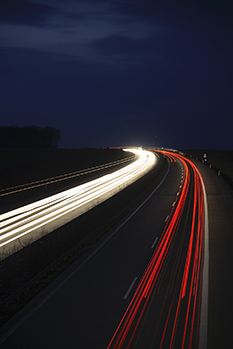 Change isn't always consistent. It comes in waves, rapidly accelerating after intervals of stasis.
Harken back to the birth of the interstate highway system. In the US, the Federal-Aid Highway Act of 1956 had its origins a half-century earlier, born from the idea of providing national infrastructure to get farmers out of the mud and their produce into the market faster. At the time it was passed, it seemed like an even better idea to support the transport of troops, equipment, and landing of planes in war time. But, regardless of its origin, we have become critically dependent on the interstate highway system and it has transformed the way we live, where we work and how we explore the world. Albeit sometimes messy, congested, and riddled with potholes – we disregard the infrastructure to focus on what we can achieve on top of it.
Today we can hardly imagine a world without roads, but they are taken for granted. Roads underpin and connect us. Without them, there would be no Tesla. No road trips. No Amazon Prime delivery. But we don't particularly care about how they are made, and get fairly frustrated when they are being constructed, modified, and improved. We just want to get from here to there.
This is similar to what we have seen across the telecom industry. We've become dependent upon the antiquated infrastructure put in place for particular functions, but nobody really likes it. At the same time, the world is changing rapidly. The advent of 5G, the Internet of Things (IoT), and cloud acceleration is creating unprecedented pressure on telecoms to keep up with network changes. With this acceleration comes the imperative to integrate and automate seamlessly, and to enable smarter, more efficient ways of working, greater agility, and better customer experience. To up the ante further, businesses must meet these demands as efficiently as possible, driving down costs while accelerating and increasing revenues.
But no one cares about the ol' infrastructure, how it's made, or even how it works. They just want it to work. Nobody wants to use an operational support system (OSS), business support system (BSS), or element management system (EMS) – although many people still do. What we want is the ability to focus on innovation. To use the tools we are familiar with, like the road, to achieve a great many things. To get from here to there.
Pipeline recently had an opportunity to talk with the leadership of Carma, a company on a mission to change the game when it comes to accelerating telecom innovation. Carma has taken all the rich, traditional business and operational support systems (B/OSS) technology infrastructure and baked it in and throughout an enterprise platform that everyone is already using: Microsoft. And, Carma goes well beyond the droves of companies that are clamoring to partner with Microsoft for simple CRM integration. Carma is providing actual, integrated telecom and operational functionality across the entire suite of Microsoft products. Think sales workflows, rules and business process all in an email within Outlook. Think CAD floorplans in CRM. It's cool stuff.
This is Carma
Carma has been helping service providers across different verticals overcome complex challenges for the last five years. But over the last nine months, co-founders CEO Frank McDermott and COO Joe McDermott have led the team through warp-speed advances in technology to create a comprehensive operations and communication platform built on a foundational network inventory. Carma consolidates and simplifies enterprise business functions like sales, ordering, cost, and revenues; with foundational telecom inventory encompassing logical, physical and business rules and processes. Then in 2020, Carma became a Microsoft Cloud Solutions Provider partner, and that changed almost everything.
"We're all in on Microsoft, and the Microsoft Cloud," says Frank. "It eliminated the need to reinvent the wheel, and enabled us to accelerate the construction of a complete telecom platform for many use cases while collapsing silos and consolidating applications."
As a commercial-grade platform, Carma serves every vertical including data centers, edge data centers, cable landing stations, mobile service providers, network operators and more. The Carma platform is also uniquely and intentionally built to be used by every function and role within these verticals, from sales and operations, to field and customer-support personnel, with the data presented in relevant views related to the users' particular functions.