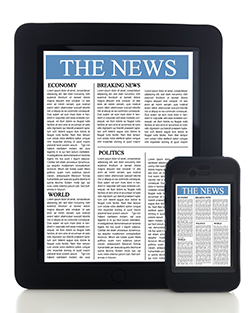 It's been a busy month for tech news—but then again, what month isn't? In noteworthy headlines, one airline is preparing streaming-fast satellite Wi-Fi for takeoff on regional service. Walmart is rolling out drone delivery service, and a new cybersecurity study from Hornetsecurity finds that fully one-third of companies are not providing any cybersecurity awareness training to remote workers—and with millions of us working remotely worldwide, that's an alarming gap.
The top telecom industry news stories from the month are summarized below. To view all the news as it breaks, check out Pipeline's News Center or subscribe to receive our telecom industry news summary.
Mobile network news
Mobility is the theme of this month's Pipeline issue. In mobile news, Alaska Airlines in the United States is the first major airline to announce plans to offer streaming-fast satellite Wi-Fi. The airline has selected Intelsat's newest satellite Wi-Fi technology to make fast in-flight Wi-Fi a reality.

Now that it has introduced its new RCS Routing service, netnumber Global Data Services can provide mobile network operators and communication service providers with real-time RCS data and updates from its phone number intelligence service. This RCS-enabled phone number data empowers next-generation RCS messaging capabilities while significantly improving efficiency and ensuring a better overall mobile user experience. In other mobility news, Mitto now delivers routing of A2P business messaging into nine Pacific Islands regions directly through each island's mobile carrier network.
Seoul Robotics, a company powering smart 3D infrastructure solutions, announced it will expand its partnership with the Chattanooga Department of Innovation Delivery and Performance to deliver 86 new smart city intersections, representing the largest urban Internet of Things deployment of its kind in the United States. Actelis Networks, a leader in cyber-hardened, rapid deployment networking solutions for wide-area IoT applications, announced that it has been selected by Northern Ireland Railways (NI Railways) to enable high-speed connectivity for a large-scale safety-critical project, including information service to train stations and remote stops throughout a network that transports over 1.5 million riders each day.
In mobile market insight news, enhanced mobile broadband (eMBB) is expected to continue to impact mobile operator business for the foreseeable future, according to a new Research and Markets report.
Innovation
Northrop Grumman, AT&T, and Fujitsu recently demonstrated 5G-enabled intelligence, surveillance, and reconnaissance (ISR) capabilities in Northrop Grumman's new 5G lab. The demonstration marked progress toward Northrop Grumman and AT&T's joint research and development agreement to build a digital battle network powered by commercial and private 5G.
Panasonic Automotive has released an update for its SkipGen in-vehicle infotainment system by demonstrating an industry-first automotive integration that provides customers simultaneous access to Siri while using Apple CarPlay or Alexa. Solodev has launched Solodev Serverless CMS: a cloud-native enterprise content