By: Davide Quadrini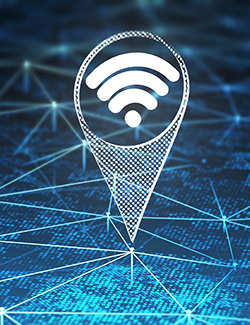 Despite the emergence of 5G, Wi-Fi will continue to play a critical role in enterprises' indoor connectivity strategies thanks to the new robust solutions based on Wi-Fi 6E and Wi-Fi 7 standards. In this article, we discuss the importance of seamless and secure Wi-Fi to enable use cases for successful enterprise engagement with customers and partners.
Wi-Fi 6/6E rapid adoption
The Global System for Mobile Communications Association (GSMA) reported nearly 200 operators in more than 70 countries have deployed 5G networks, connecting almost a third of the world's population in 2022. Despite the massive 5G deployments, Wi-Fi remains the dominant technology enterprise used indoors.
There are more than 18 billion Wi-Fi devices in use today, and Wi-Fi generates an economic value of $3.5 trillion. Wi-Fi remains the dominant indoor technology and is driven by a combination of three factors that include:
The impact of the pandemic on Internet usage (Wi-Fi traffic doubled).
The game-changing worldwide addition of the 6GHz spectrum band.
The rapid commercial availability and market adoption of Wi-Fi 6.
Adoption of Wi-Fi 6 is growing broadly, and Wi-Fi 6E (the 6GHz extension of Wi-Fi 6) is making its way among enterprises. We expect the great adoption of Wi-Fi 6/6E to continue in 2023—despite the gloomy economic environment—driven by many features of Wi-Fi 6 generation and its ability to access additional 6GHz spectrum. The huge increase in heavy traffic applications and low latency requirements puts new burdens on capabilities required of a commercial Wi-Fi network, and these user requirements will drive investment in next-generation Wi-Fi.
Guest Wi-Fi drives customer engagement
Most people use their smartphones in customer-facing business locations such as stores, hotels, restaurants, and public transport, and Wi-Fi technology plays an essential role in guests' experiences in these locations. As people use mobile devices for comparing prices, researching products, and accessing social media while in these customer-facing locations, businesses must facilitate users' onboarding to secure Wi-Fi. As they do so, enterprises have the opportunity to deliver relevant and timely content—such as the latest promotions—straight to their customers. As a result, guest Wi-Fi will increasingly become integrated into the business sales and marketing processes.
Enterprises that have guest Wi-Fi can provide customers with a superior digital welcome and give an end-to-end mobile experience. For the enterprise, a significant benefit of guest Wi-Fi can be opt-in marketing lists with information collected when guests access the Wi-Fi service for the first time. Customers can select the log-on option they prefer, such as an email address or social media account. The result is a marketing list other businesses cannot purchase and is of great value for future sales and marketing initiatives.
Connecting to traditional business Wi-Fi, however, is not without problems and friction. The most common problems for staff and customers include clumsy captive portal pages, needing or losing a password, not knowing which network to log on to, or requiring too many steps to access the Internet. Thankfully, Passpoint and WBA OpenRoaming™ can address some of the top challenges IT leaders face by automatizing time-consuming Wi-Fi onboarding and management processes.
WBA OpenRoaming momentum
WBA OpenRoaming is an open industry standard promoted by the Wireless Broadband Alliance (WBA). Basedon Wi-Fi CERTIFIED Passpoint standard, WBA OpenRoaming automates secure device onboarding and roaming between different Wi-Fi networks. Effectively, WBA OpenRoaming brings together a federation of trusted identity providers and lets users join any network managed by a federation member.