By: Matthew Halligan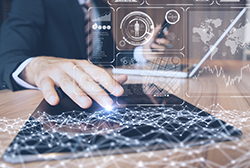 The pandemic made the digital lifestyle a mainstream phenomenon and a global trend that's no longer limited to digital natives such as twentysomethings. Virtually every demographic, including senior citizens, has had to pivot to working, playing, and living online, such as subscribing to streaming video services rather than going to theaters. Each of those activities brings another monthly bill.

Wading through multiple bills each month is a hassle for consumers and enterprises alike. But it's not a necessary evil. Just the opposite—it's a significant emerging business opportunity for savvy mobile network operators (MNOs) and their mobile virtual network operator (MVNO) partners and sub-brands.
One thing, however, hasn't changed. As more consumers live a digital lifestyle, MVNOs and MNOs still have the same fundamental tasks for supporting those transactions: discovery, onboarding, consuming, charging, and billing.
First, some history helps illustrate the problem and opportunity. MVNOs initially were non-telecom consumer brands that wanted a fast, relatively cheap way to expand into mobile, such as Virgin. Others were MNO sub-brands that enabled those operators to pursue new demographics without sullying their flagship brand. These B2C MVNOs typically target demographic groups that are narrow but deep, including budget-conscious consumers or people who shop at a specific retail chain, such as Walmart Mobile and Tesco Mobile.
The second traditional type is B2B MVNOs. Many of the initial ones were telcos that wanted to add mobile to their portfolio of Server Messenger Block (SMB) services to increase average revenue per unit (ARPU) and stickiness. More recently, the B2B category has expanded to include MVNOs that support enterprise Internet of Things (IoT) applications in verticals such as oil and gas, manufacturing, and agriculture.
The common denominator is that then and now, most B2B and B2C MVNOs sell connectivity—and nothing more. Connectivity is a commodity, leaving price as their primary differentiator.
Multiple brands on one bill
Now, MVNOs can plumb those groups to new depths to increase ARPU, add differentiation, and minimize churn and operational expenditure (OPEX). The key is a digital transformation of their business support system (BSS), enabling them to offer consumers a self-service, à la carte menu of services from partners such as video and music streamers and home security providers. For B2C, this transformation increases stickiness by making it convenient for consumers to get a single monthly bill for multiple services. For B2B, a digital BSS enables MVNOs to become key players in industry-specific ecosystems where they provide billing reconciliation and other services for their partners.
For example, digital natives and other consumers subscribe to multiple monthly services. U.S. households have an average of four streaming video subscriptions, and roughly 38 percent have a home security service. Other common subscriptions include fitness programs, beauty and grooming boxes, prepackaged meals, streaming music, and pet boxes.
Unless they have each one automatically debiting their bank account or credit card, they must remember their account password every month to log in to pay their bill—assuming they even remember when it's due. In fact, the struggle to stay on top of all of them has given birth to services that track and manage subscriptions.
Next-gen B2C MVNOs can turn this problem into a business opportunity by transforming themselves into one-stop shops. Instead of receiving a dozen separate bills, MVNO customers could have them all added to their monthly mobile subscriptions. The MVNO gets new revenue from royalties for billing on behalf of (BOBO) each streamer and other subscription services. And suppose it becomes the exclusive BOBO partner for some of those services. Another benefit is reduced churn among customers who subscribe to those services because they value convenience. If we really think about what drives the digital lifestyle, is it not convenience and simplicity?
MVNOs have a unique opportunity for BOBO as they have a targeted market that trusts them! This trust is critical whether they're digital natives or newcomers to the digital lifestyle, consumers are concerned about the security of the credit card or bank account information that subscriptions require. BOBO enables them to enjoy those services without sharing their payment information with multiple companies. Their MVNO can offer a single, consistent means of being charged and billed.
As one-stop shops that already have a trusted relationship with consumers, MVNOs are attractive partners to subscription services and other digital businesses. BOBO also appeals to subscription brands because it reduces their overhead cost of getting paid. Like their customers, they get to work with one entity instead of many. BOBO can