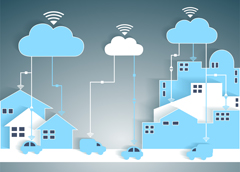 Consider this description of Mark Twain - humorist, publisher, author of one of the "Great American Novels"…and Internet visionary. If the last claim seems rather outlandish, then consider this: In 1898 he published a short story about a crime surrounding a new device called the Telelectroscope. This technology rendered the "daily doings of the globe… visible to everybody, and audibly discussable, too, by witnesses separated by any number of leagues." In short, Twain envisioned a connected world, one that is now a reality.
What is the Internet of Things?
The Internet of Things (IoT) goes beyond machine to machine (M2M) connectivity. As defined by the Internet of Things Global Standards Initiative (IoT-GSI), it is "a global infrastructure for the information society, enabling advanced services by interconnecting (physical and virtual) things based on existing and evolving interoperable information and communication technologies." In short, it is a comprehensive network that links our computers, mobile devices, cars, homes, health services, city infrastructures – and even, through micro-chipping, our pets. Retail, Transportation, Utilities, Manufacturing, Healthcare, Energy, Telecom - IoT is changing how companies in various industries do business.
Steps to a Comprehensive Internet of Things Service
The Internet of Things challenges the ways we have traditionally thought about connectivity. Yet, at the same time, such a service promises a great many opportunities and benefits, both for providers and their customers. With this in mind – and particularly considering the Internet of Things for business – it's worth looking more closely at the steps on the road to providing IoT services.
Step 1 – Recognize the Possibilities of the Internet of Things
Internet of Things connectivity means that, as a user, you can control Smart Home devices from the dashboard of your car. It means you can get Smart Shopping notifications about offers tailored for you, based on your location. And, with Connected Car, it means your vehicle can become a mobile device in every sense. These are just a few of the benefits of the Internet of Things, and they all represent opportunities for providers who embrace this technology.
Step 2 – Understand Vertical Specifics to Harness the Internet of Things for Business
For business, the Internet of Things is a potentially world-changing phenomenon, the impact of which relies on its practical applications for various and specific industry verticals. These days, this means end-to-end solutions offering functionalities built with the end user in mind.
Step 3 – Understand the Requirements of Truly Comprehensive Internet of Things Services
Smart Cities, Smart Homes, Connected Cars… these are among the Internet of Things applications with which end users interact. In each vertical, though, true Internet of Things services consist of much more than the application. They require multi-level connectivity, interfaces not just with the human end user, but also between devices, as well as functionalities such as intuitive dashboards and graphic representatives of data, and APIs to external systems.
Step 4 – Build IoT Services
It should be clear from the above that creating true IoT services is a complex process. The first of the Internet of Things challenges to be faced by a service provider is always IoT service building. This comprises a number of different sub-steps.
The first relates to buying or hiring equipment and devices. For a service provider contemplating the development and manufacture of their own device, factors such as prototyping, fine-tuning, connectivity, module building and, finally, production should all be taken into consideration. An alternative is to consider hiring equipment, with a hybrid step of partial outsourcing bridging the gap between the two approaches. Obviously, such a financial decision should be taken with a close eye on all potential costs.