Many carriers have already started to realize that Wi-Fi is the best insurance policy they can get to protect their core business in a Wi-Fi centric world.
In 2015 and beyond, you'll want to keep an eye open for the following trends:
Trend #1: Carriers lose 85% of mobile data traffic to Wi-Fi by 2018
The need for Wi-Fi offloading will only increase. Mobile data traffic will grow to 15.9 exabytes per month in 2018 (that is a 61 percent CAGR growth 2013-2018), with video generating over 69 percent of that traffic. In fact, according to GSMA, mobile data revenue will overtake voice revenues by 2018.
With the proliferation of Wi-Fi-capable devices, and even Wi-Fi-only devices, it makes sense for carriers to offer Wi-Fi as an alternative to 3G and 4G connections. Once again, according to Cisco, 56 percent of all traffic from 4G mobile devices will go over Wi-Fi in 2018.
The predicted shift from cellular traffic to Wi-Fi-based traffic means that only 15 percent of the carriers' subscribers mobile data traffic will go through their cellular networks in 2018 (if we include Wi-Fi-only tablets).
We can see that trend already today, as carriers currently control only 30 percent of that traffic.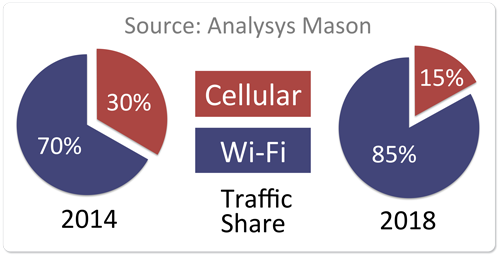 If carriers are only relevant for 15 percent of their subscriber's traffic, churn will increase significantly. Many carriers have already started to realize that Wi-Fi is the best insurance policy they can get to protect their core business in a Wi-Fi centric world. The choice for an operator is to either go back to the old business models (unlimited data plans), deploy Wi-Fi, or risk becoming irrelevant to customers.In 2015, most carriers will start to recapture the traffic through controlled Wi-Fi.
Trend #2: Next-generation Wi-Fi Calling
The capability for Wi-Fi calling has been around for quite some time. Today we're seeing the dawn of next-generation Wi-Fi Calling where support for Voice-over-Wi-Fi (VoWiFi) is embedded natively in the device, in the same way as for Voice-over-LTE (VoLTE), which enables that calls can be made through any Wi-Fi connection with access to the Internet.
Wi-Fi Calling is a game changer for mobile operators, especially those that have poor in-door coverage. As more and more people are giving up their landlines and use their mobile phone as the primary contact to the world, they will be more open to switching to another operator if the connection is poor. But, with Wi-Fi now more or less in every home and other indoor environments, Wi-Fi Calling will offer a much better user experience in many situations and thus reduce churn.
Wi-Fi Calling will also work when the user is abroad and there will be no roaming cost for the operator. T-Mobile, a pioneer in next-generation Wi-Fi Calling, let this benefit pass transparently to the subscriber, and a call through Wi-Fi Calling abroad is, therefore, charged at the same rate as at home. This type of business plan will, of course, be even more attractive for business people and others with extensive traveling.
Trend #3: VoLTE continues to take off
There are several reasons why operators are moving toward VoLTE. During a number of years, most operators have focused on deploying 4G/LTE data services which means that, as soon as someone makes a call, it has been routed through the traditional 2G/3G circuit switched network. VoLTE now offers operators the opportunity to take the next step toward that, and all voice calls will be IP-based.
Other reason for introducing VoLTE is that LTE is more spectrum efficient than 2G/3G and also that operators can start to re-farm valuable spectrum from existing 2G/3G networks to be used for future LTE and upcoming 5G services.