There is a growing need for a common, converged multi-cloud infrastructure.
Licensed on-premises deployed products become obsolete quickly. Given the amount of effort and discrete incremental expense to upgrade, IT often decides to skip refreshes, which results in people not having the latest features to use.
Legacy telecom BSS/OSS face a similar dilemma. Many of these systems were built for an era when voice minutes, text messages, and bandwidth were the primary monetized products delivered over relatively fixed infrastructures.
In the same way that the modern workplace cannot be adequately supported by static on-premises management tools, modern networks of 5G, O-RAN, hybrid mobile edge compute, evolved packet core and the new services they support cannot be adequately managed by legacy BSS/OSS system architectures.
This dilemma is reflected in the telecom industry's ongoing efforts to move the TM Forum Framework to an Open Digital Architecture (ODA) matched to the agility and elasticity of a global platform cloud or actualization platform.
Platform businesses, networks, cloud and edge
There is a growing need for a common, converged multi-cloud infrastructure. For cloud adoption to reach full potential, a separation of concerns must be maintained between a tenant layer and an actualization platform layer.
The actualization platform is distributed, hybrid, and multi-cloud. It is a networked mesh of hyper-scale compute nodes, smaller edge compute nodes, smaller still mobile edge compute nodes, customer premises edge and IoT devices. A management control plane can be extended across its breadth.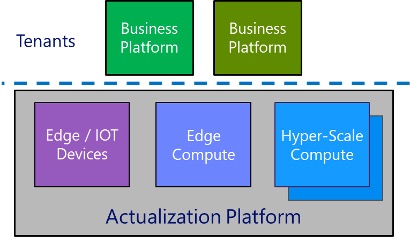 Figure 1: Actualization Platform

Collectively, this enables the cloud, a logical slice of autonomously managed, distributed, load-balanced resources, connected via software defined networking, chained together via orchestration, for a specific purpose and duration.
The actualization platform provides a broad range of first- and third-party, reusable building block capabilities and services, as described in the TM Forum's Digital Services Reference Architecture (DSRA) via marketplaces, stores or libraries such as Github. The actualization platform is converged in the sense it provides enabling capabilities across all workload archetypes:
IT, including common functions such as identity, cybersecurity, containerization, automation, etc.

IoT-specific infrastructure, features and edge devices
Media (edge video processing, media creation and streaming)
AI, ML and data management
xReality, digital twins, and gaming
Network functions, including user plane, control plane, VNF/CNF, and resource orchestration and slicing

A key objective must be to adopt a converged infrastructure capable of predictive, autonomous allocation and deallocation of resources to meet the needs of all six workload archetypes in real time. This need is driven by economics. Eliminating most of the current requirements to have dedicated separate infrastructures in parallel for each of several specific workload types creates a huge opportunity to reduce certain costs in the range of 50 to 80 percent and to increase agility significantly.