By: Kerry Singleton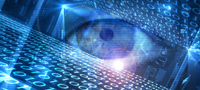 Soon after the World Health Organization (WHO) declared Covid-19 a pandemic, consumers and businesses realized that digital is the key to the future. Today people shop online, pay via mobile devices and—because they work remotely—access many apps that enable them to collaborate, innovate, and remain productive.
According to a recent study, global Internet disruptions saw an unprecedented, dramatic rise in March, coinciding with pandemic-related shelter-in-place orders. These remained elevated through the first half of 2020 compared to pre-pandemic levels. Obviously, this impacted the user experience of customers and employees—not just from a network and infrastructure perspective but also from a security perspective.
A new Cisco-commissioned survey of 3,196 IT decision-makers across small, medium, and large organizations in 21 markets, for example, revealed that 61 percent of organizations globally experienced a jump of 25 percent or more in cyber threats or alerts since the start of the pandemic. This was experienced by 55 percent of small businesses, 70 percent of medium organizations, and 60 percent of large enterprises.
More than six months in, as we strive for normalcy and aim to return to work, it is clearer than ever before that we need to transform our organizations into resilient enterprises and ensure that cybersecurity underpins all our efforts. To be honest, my interactions with customers and the survey Cisco conducted both suggest that investment in cybersecurity is set to rise, making it a critical part of the concerted, enterprise-wide effort to become resilient.
Resilience, however, doesn't come easily. From experience, here's a blueprint (illustrated in Figure 1) that emphasizes the principles and building blocks of the approach we are using at Cisco to help customers morph into the resilient enterprises they aspire to be. The resilient enterprise is designed to be future-ready.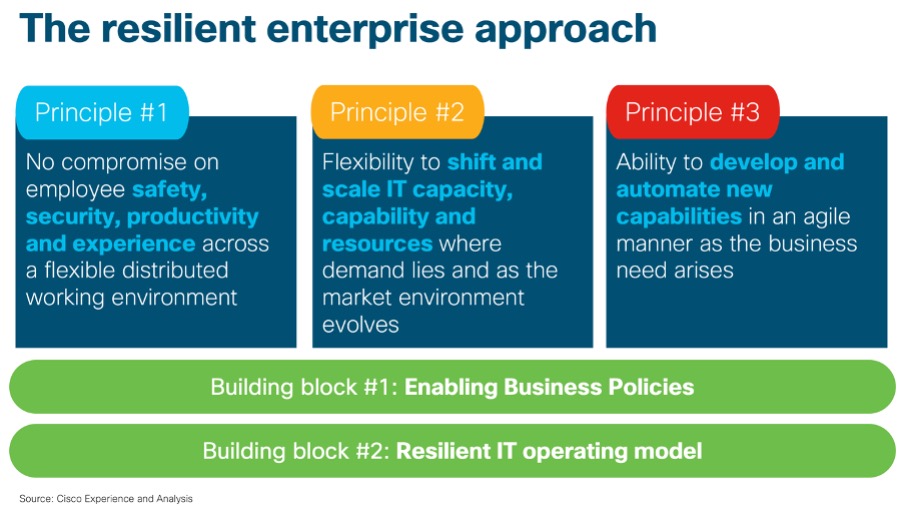 Figure 1: The Future-Ready Blueprint
[click to enlarge]


The emphasis in the first principle is on ensuring that employees have the best experience regardless of where they choose to work (in the office, at a café, or at home); what device they use, personal or corporate; and which network they pick to log into the organization's network, apps and services.
From an implementation perspective, this means leveraging a variety of intelligent tools, such as digital collaboration solutions that bridge the gap between virtual and physical collaborations to health and safety solutions that make offices safer despite the pandemic.
The second principle addresses the need to support customers and employees as demand for digital services and solutions rise, along with a need to transact digitally.
Tactically speaking, for any organization that has been neglecting to move as much of its workloads to the cloud as possible, now is the time to change that. Moving to the cloud provides the flexibility, agility, and the scalability that today's organizations looking to become resilient need.