By: Jesse Cryderman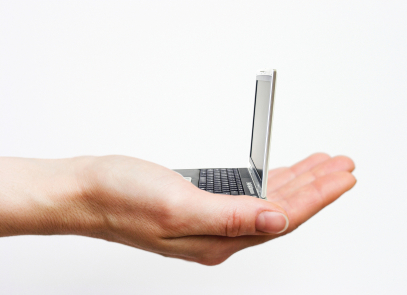 Eight-core processors the size of a postage stamp. Particle accelerators reduced to a chip, data centers on a chip and base stations that look like a Rubik's Cube. The iPad Mini and the Ultrabook. With the exception of display screens, in the world of technology it seems small is always the new big.
The same holds true for the hardware responsible for shuttling cellular traffic to and from end-user devices and the backhaul network. Cellular transmission sites have benefited from the onward march of Moore's law and concomitant reductions in power consumption as well as improvements in beam forming and spectral efficiency. Now they're being further enhanced with Wi-Fi, LTE and LTE-Advanced, and reduced to diminutive packages known as small cells.
Several types of hardware are referred to as small cells, including picocells, microcells and femtocells. Even today some people still associate the category with femtocells, which were designed and deployed for small coverage, mainly indoors, but the discussion is much larger. Unlike femtocells, small cells are engineered to provide greater capacity outdoors, they can manage considerable bandwidth and they augment macrocell coverage. They're also deployed in arrays and can be highly directional and deliver capacity in areas unreachable by traditional macrocells, the cellular sites (i.e., towers) that make up the larger wireless network.
Tony Goodman, manager of CNS solutions development at Sprint, succinctly explained the different "sizes" of cells in an interview with
Pipeline
. "Picocells and metrocells are simply single-sector base stations that utilize the same core equipment as the macro network," he said. "Femtocells utilize customer internet access for backhaul and have separate core equipment connecting them to the network."
Much has changed since small cells were first adopted and deployed, its technology having been subsequently incorporated in the network architecture of mobile network operators (MNOs). First, operators have learned that it's not as easy or as cheap as they had imagined to create thousands of new access points to their networks. Additional access points increase network complexity, plus there are numerous backhaul issues to consider, and interference problems in densely populated areas have arisen.
Secondly, new access technologies like 4G LTE and Wi-Fi have entered the mix, and in response, a new breed of both small-cell and control-plane software has emerged. As MNOs craft their network plans, these emerging small-cell technologies demand attention.
Small cells, big business
A new generation of small cells has hit the market courtesy of network equipment manufacturers (NEMs) like Ericsson, Nokia Solutions and Networks (NSN), Alcatel-Lucent, Cisco, Huawei, ZTE, ip.access, and NEC, and the end product is flying off the shelves: AT&T, for instance, is in the process of adding 40,000 small cells to its network as part of Project Vector IP. As you can see in figure 1 below, the small-cell market is booming.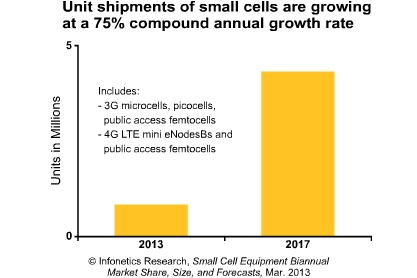 "AT&T, Sprint, and Verizon Wireless in the U.S., Vodafone in Europe, LG U+ in South Korea, and NTT Docomo in Japan have all announced major small cell plans," wrote Stéphane Téral, principal analyst at Infonetics Research, earlier this year. Communications service providers (CSPs) are spending big on small cells because they "need to enhance the capacity of saturated macrocellular networks as they seek to deliver denser, higher-capacity coverage to tech-savvy populations in urban areas."