By: Natasha Tamaskar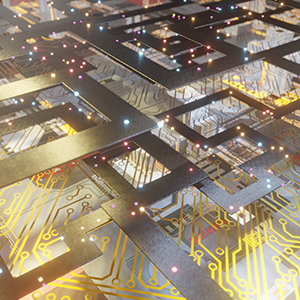 The pandemic has changed how we live, work, and play as many of our day-to-day activities have moved online and we are now more reliant on broadband connectivity than ever before. To keep up, our home networks must meet new bandwidth demands driven by a proliferation of users and devices all connecting during peak hours.
At the same time, the pandemic showed that industries that had already digitalized—think finance, entertainment, and retail—were best equipped to meet the demands of the pandemic. Physical industries such as manufacturing, warehouses and logistics, mines, and ports are now seeking to digitalize their operations to take advantage of more automation and remote control.
Both trends provide significant opportunities for communications service providers (CSPs) to deliver increased coverage and capacity to their residential and business customers, as well as to provide new revenue-generating services. CSPs can take a number of steps to differentiate their service offerings and to ensure that they capitalize on these opportunities.
Focus on outcomes, delivering connectivity and new services
Traditionally, communications service providers delivered the "pipe" that brought Internet connectivity to the home or business or that delivered cell service to a mobile device. CSPs were focused on delivering speed, while over-the-top (OTT) players leveraged these "pipes" to offer revenue-generating entertainment services such as Netflix, messaging services such as Skype or WeChat, and video conferencing services such as Zoom.
Now, with hyper-connectivity the norm and 5G networks being deployed globally to keep up with high-bandwidth, low-latency requirements for new applications and IoT devices, CSPs have an opportunity to deploy new value-added services to their customers in addition to the network itself. Rather than just competing on speeds, they can now offer services that help them differentiate from other service providers and from OTT players as well.
For residential customers with multiple family members now simultaneously working, learning and being entertained at home, CSPs should offer new services that enhance the connected home experience. For example, smart home services offer an attractive revenue growth area in the near and long term. CSPs could become a one-stop-shop by offering to their customers smart home bundles that provide smart devices such as appliance, sensors and security cameras that connect to their network.
For business customers, CSPs can offer audio and video conferencing services and collaboration tools that can be accessed on a wide variety of devices, differentiating the meeting experience with enhanced security and virtual assistant capabilities.
CSPs are also partnering with enterprises and industry verticals to deploy private networks that leverage a variety of spectrum options such as CBRS in the US and locally licensed spectrum that has been made available in the UK and Germany. Many of these networks will be deployed via small cells. According to the Small Cell Forum Market Forecast 2021, the fastest growing segment of small cell deployment will be in private enterprise networks led by automotive and manufacturing industry verticals.
Deliver an intuitive network that understands customers' demands
As technologies such as artificial intelligence and machine learning mature, networks are becoming more intuitive. If the network knows that a family of four will be online between 8am and 5pm each day on multiple simultaneous video conferences, it can ensure that enough bandwidth is available. At the same time, CSPs have access to tremendous amounts of data running over their networks. Using analytics, this data could be harnessed to provide more insights into customers' wants and needs, but how this data is collected and stored must be carefully handled to protect privacy.
As artificial intelligence applications have more access to big data, they open even more possibilities for new services. For example, CSPs can create and deploy personalized AI-powered video bots that can provide real-time personal interaction with customers. Companies can also create "bots" to represent their senior leadership or to leverage celebrities as brand ambassadors. These "bots" can be programmed to