A recent survey found that 38 percent of adults sometimes think it would be easier to solve world peace than attempt to remember all their passwords.
Let's hope Verizon seizes the opportunity better than TWC, and that this doesn't end in "you've got fail!"
xPlay becoming a reality
As communications service providers add more and more services to their portfolios, the n-play naming convention becomes a little silly. For instance,
Telefonica announced
that it is now a "Quintuple-Play" service provider with the addition of home security services. Not only that, the company claims it offers "the world's first quintuple-play service." Have they not heard of AT&T? Maybe Telefonica is referencing the network technology upon which its services are built, namely fiber optic and so-called 4.5G systems. Either way, the company isn't the first, and it won't be the last.
I wrote about the new
xPlay experience
in March, and argue that this is really part of the evolution from CSP to DSP (digital services provider). Whether we call it quintuple-play or something else, the bottom line is that xPlay is becoming a reality. Operators must evolve their business strategies and support systems in order to become DSPs and maintain relevance in the future.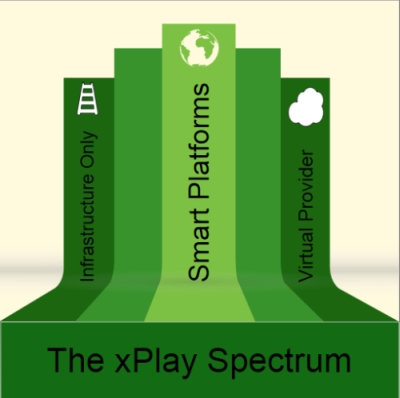 Opportunities on the xPlay Spectrum, Jesse Cryderman, 2015

CenturyLink launches pay-TV service
Speaking of expanding the service catalog, CenturyLink has quietly developed its own pay-TV service to compete with traditional cable and satellite operators, as well as telco-TV. The service, called Prism TV, is interactive video service delivered over CenturyLink's nationwide fiber optic network. The service just went live in Salt Lake City, Utah. Compelling features include a wireless set top box and next-gen interactivity. Less compelling? The name. Given the
negative connotations
surrounding ISPs and Prism, it's surprising (at least to me) that no one in marketing raised a red flag. I guess it's not quite as bad as the mobile industry
using Isis
as its brand name for mobile money!
News from Nice
Nice, France was the place to be on June 1, as the world's leading technical innovators converged on the historic Le Negresco to attend Pipeline's annual Innovation Awards ceremony. This year, the awards program was bigger and better than ever, and the beautiful evening on the French Riviera was truly one to remember. Winners included Nakina Systems, NetCracker, CSG, Procera Networks, Apptium, Nokia, Global Capacity, and Allstream. You can read all about the program, judging process, and event in our post show article.