Verizon aims to buy AOL, let's hope it seizes the opportunity better than TWC, and that this doesn't end in "you've got fail!"
While in France, Pipeline had the opportunity to test out a unique international mobility solution from Cellhire. The company offers turnkey solutions for consumers and businesses on the go, and takes the guesswork out of pricing and service activation while traveling. We were provided with a Samsung V100-T mobile hotspot, which was able to support our entire ground team, and came fully charged and pre-configured for service in France. The mobile data service appeared to run on T-Mobile's international roaming partner networks, and consistently delivered speeds that matched or surpassed our in-room Wi-Fi at the hotel. Cellhire also provided the team with a basic cellphone, which came in handy after one of our editors had his phone snatched on the street! The combination of ease of use, performance, and transparent pricing makes Cellhire an excellent choice for international travelers.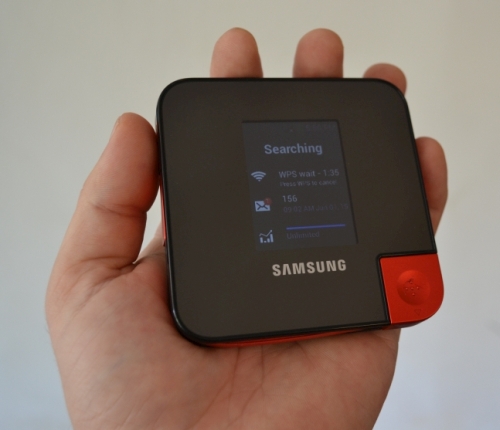 Samsung V100-T: Supports up to 10 users, fits in
your pocket
Cable Show becomes INTX
For many years, the National Cable and Telecommunications Association (NCTA) has hosted the annual Cable Show, which traditionally brought a lot of colorful glitz and glam to the often monochromatic world of communications technology. Times have changed! Now that content developers like HBO can sell directly to consumers, there is less need to court the Comcasts of the world with celebrity appearances and outsized booths. At the same time. the show has been renamed the Internet and Television Expo (INTX) to reflect the evolution of the industry.
Top executives from the cablecos were on hand to talk strategy and innovation, and demo new solutions, and the crowds were substantial on Wednesday, May 6, the second full day. This year, the Internet of Things (IoT) was a hot topic at INTX in Chicago, along with carrier-grade wi-fi and virtualized solutions like cloud DVR and virtual CPEs. Comcast showcased new streamcasting features of its X1 platform, and many vendors were on hand to discuss how they are enabling cable operators to transform their back-end systems. Rovi demonstrated the future of search functionality with natural language innovations and a minuscule set-top box that was no bigger than two decks of cards. Alcatel-Lucent explained how it is moving into the cableco space with switches that are purpose-built for standard cable rack sizes. and IneoQuest outlined the problems operators face as they deliver content across multiple networks. The show may have lacked the palpable buzz from years past, but it certainly delivered on the technological front.

Sayonara passwords: DOCOMO goes biometric
There are many advantages to the digital age--easy access to information, mobile banking, one-touch shopping, and so much more. All of this convenience comes at a price: password fatigue. Digital services require authentication, and since the ecosystem is so broad, users are required to create, recall, and update numerous passwords. Research indicates that consumers are already up to their necks in passwords. A
recent survey
found that "38 percent of adults sometimes think it would be easier to solve world peace than attempt to remember all their passwords," and the same percentage would rather complete a household chore (like clean the bathroom) than create another username and password combination. With the advent of the Internet of Things, and the billions of devices this will bring into the picture, more passwords seems like an inevitability. Or is it? Alternative forms of authentication are catching on--such as Google or Facebook password tokens--but the answer may exist in the palm of our hands. Literally.
NTT DOCOMO has joined the board of the
Fast IDentity Online (FIDO) Alliance
, a global nonprofit with a stated aim to "standardize password-less online authentication based on public key cryptography and biometric technologies." DOCOMO joins other top technology innovators, including Microsoft, Google, Samsung, Intel, and Qualcomm.
Biometric technologies authenticate a user by matching a fingerprint or iris scan against a known user profile. DOCOMO began offering password-less authentication for a number of its services on May 27.