By: Rohit Batra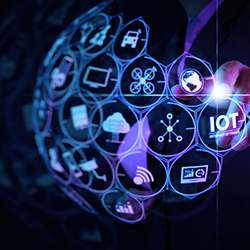 Communication service providers (CSPs) must strengthen and streamline network inventory if they want to deliver great service and customer experiences.
In today's digital economy, your customer's journey is key to your success. But building customer trust is a long and painstaking process, and in today's competitive landscape, loyalty can be lost in an instant. To create the perfect ecosystem for your customers, you must automate your network so that you can fix problems as they happen while having the most accurate view of your network, your service and product offerings, and, most importantly, your customer needs.
We are at a point in time when expectations are high, and everyone wants everything to work together. More and more, it feels as if we should coin this era "the age of the easy button." But supporting the digital economy isn't easy.
We are in the thick of building complex networks to harness the limitless potential of every industry. After all, nearly every company across every industry is using some form of digital services in their day-to-day operations. Remote learning, remote work, gaming, and e-commerce have brought the demand for high-quality digital experiences to an unprecedented high. And it's not just businesses and consumers that rely on digital services to operate efficiently, but entire industries, too—from healthcare and manufacturing to banking and financial services, as well as in the public sector.
Underneath all those digital services lie your network and the intricate web of fiber connecting it—leaving no room for any service to be disrupted. A network disruption can be catastrophic, leaving customers, businesses, and industries at a standstill until it is fixed.
Business models need to be agile to compete in a zero-touch era, which means driving innovations while maintaining a level of service and experience that customers expect.
Redefining your networks—from connectivity to service
Devices were once considered simple endpoints in a network where connectivity and coverage were primary concerns. But the networks of today need to focus on providing customers with a seamless experience in a ubiquitous ecosystem. In the wake of next-generation networks everything is about speed, agility, and providing services to customers with unprecedented quality of experience.
Customer experience is one of the best ways that CSPs can differentiate themselves from the competition. And it pays off: 70 percent of all consumers see customer experience as a major factor when choosing the best telecom service provider—and consumers are willing to spend up to eight percent more for an excellent experience in the telecom industry.
CSPs must build, manage, and operate networks while delivering services with unparalleled customer satisfaction. To do just that, you need to be able to connect systems, data, and people while closing the loop and ensuring your services run smoothly. You need to know your network, as complex as it is, and automation is the key. You want customers to be independent through self-help and self-service while having a network that can self-sustain, self-optimize, and self-heal. This is only possible if you have the right partners. DISH is an example of how starting a complete 5G network from the ground up is not enough—proactive customer care is critical to delivering better network experiences.
There are also companies that are focusing on building solutions that manage end-to-end experiences. For example, Lumen Technologies recently launched an intuitive, all-digital experience for the purchase, configuration, and management of enterprise secure access service edge (SASE), which will simplify a company's digital transformation journey.
Drive innovation and growth with automation
With the accelerated pace of innovation and increasing network complexity, a CSP's ecosystem of network assets is more disaggregated and complex than it has ever been. It includes disparate systems, vendors, services, and siloed data that make managing the network and identifying opportunities for growth more complicated. Additionally, identifying, fixing, and integrating new services often requires multiple teams working on different platforms. All of this leads to hindered growth and