The first 5G networks will launch in 2019 and total connections will scale rapidly to one and a half billion by 2025 with initial growth driven by fixed wireless access
A significant proportion of these data-intensive connections will be in urban areas; in turn, this will place increased pressure on operators to solve the 'densification' challenge.
Other IoT sectors will generate minimum amounts of data, owing to a small addressable installed base of devices. For example, the desire to have an over-reliance on residential broadband connections will lead to development of 5G smart home security connections. While these connections are forecast to remain under 8 million by 2025, they will generate data that needs to be transmitted as HD video data.
Future Outlook
Juniper Research anticipates that the first 5G networks will launch in 2019 and that total connections will scale rapidly to 1.5 billion by 2025, with initial growth driven by fixed wireless access to replace or complement current broadband connectivity.
Operators in Japan and South Korea have established themselves as clear leaders in the development of 5G. Juniper Research forecasts that 43 percent of global 5G connections will be located in these two countries in 2019.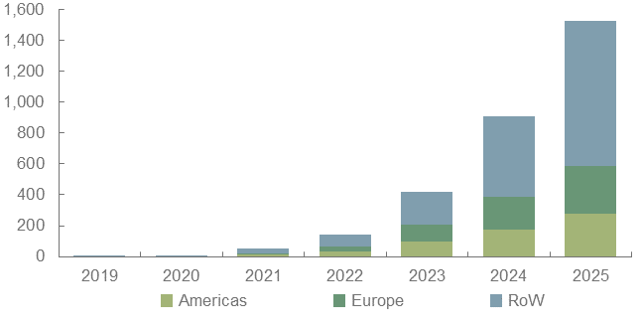 Figure 4: Global Mobile 5G Active Connections (m) 2019-2025
Source: Juniper Research
(Click to Enlarge)
Juniper also forecasts that 5G broadband will be among the first services to launch over 5G. Its suitability as a last-mile solution will drive adoption to over 220 million connections by 2025. However, the challenge for operators will be to demonstrate tangible benefits to enterprises and consumers over existing fiber-based solutions.
Juniper cautions, however, that operators face significant challenges both to deploy and most effectively configure 5G networks. We argue that with the need to deploy dense small cell networks, operators would need far greater access to sites to upgrade and share equipment. Furthermore, we would urge operators to invest in virtualized networks to enable both more efficient traffic management and to improve security in the network perimeter.