Managed services are seen as a vital strategy to drive new revenue growth, improve customer experience and push service differentiation.
Beyond cost saving to driving new revenues
The traditional drivers from a few years ago for managed services have changed. In 2009, 80% of service providers looked to managed services to reduce costs. That cost saving is now much more of a given. Instead, new drivers have emerged. A 2013 survey by Informa Telecoms & Media discovered reasons for working with managed services providers that had never previously been mentioned. Now managed services are seen as a vital strategy to drive new revenue growth, improve customer experience and push service differentiation.
This shows that today's DSPs are demanding service assurance, guaranteed service levels and proven innovation, all supported by a managed service that is capable and agile enough to get the right offers to market quickly and drive new revenues and profitability.
Managed services provide a way for DSPs to offer new services and comprehensive capabilities that meet the needs of a dynamic market, including real-time charging, multi-service convergent offers, online self-care, hybrid service innovation, profiling and personalisation, complete customer management, policy control, service assurance and enriched business insight and proactive revenue assurance.
MDS' Managed Service is extensive, secure and trusted. Based on a private cloud model, the fully-assured service provides outsourced billing and customer management solutions which helps the CSP accelerate their full transition to a DSP. Managed services and the maturation of cloud-based technologies means that CSPs can rapidly enter the digital services market sustainably and profitably. Fully integrated infrastructure supports full automation of key "order-to-cash-to-care" processes and harnesses powerful analytics capabilities – thus giving them critical insight into their customer data.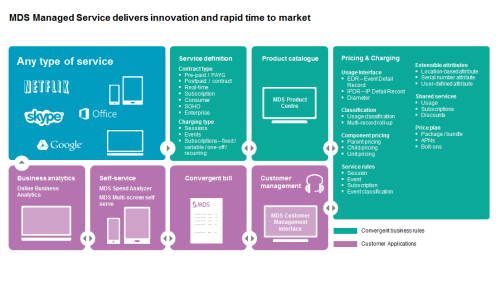 A comprehensive customer-centric approach
MDS's managed services provide a 24/7 dedicated service management operation, are scalable for lower total cost of ownership, receive continual investment to maintain extremely high standards of infrastructure security, receive extensive auditing and checks and balances, and have a proven track record of delivering projects on time and to budget.
Through managed services, a CSP can evolve into a DSP and can change its relationship with its customer to offer true self-service whilst the back office offers real-time credit control, hybrid and real-time balance management, adjustable thresholds, as well as online purchasing and notifications. It enables "on the spot" upselling, thanks to real-time analytics. This means new propositions can be monetized and enabled on demand.
For example, when on holiday, subscribers often feel it's better to turn off data roaming altogether, to avoid incurring unreasonable charges and bill shock. But with self-service tools and real-time management controls, users can set their own thresholds so that they can control how much they spend. Best of all, service providers can monetize this roaming activity where previously there would have been none.
A managed service makes a difference. It enables CSPs to get to market faster, reduce operational risk and reduce costs so they can focus on growth and customer experience. Managed services are the key to delivering innovation and rapid time to market and ensuring today's CSPs can make the transition to the DSPs of tomorrow.
__________
MDS is a leading provider of convergent real-time charging, billing and customer management solutions, enabling digital service providers to monetize and bill any product and service rapidly and accurately. Its managed service solutions support customers and deliver a low total cost of ownership, with a one view platform that enhances the customer experience.
Headquartered in the UK, MDS managed service solutions support customers across Europe and North America, including BT Business Mobile, Dixons Carphone, eircom Business, TalkTalk Business and Telefónica UK.
For more information, visit http://www.mdscem.com. Follow MDS on Twitter: @MDSglobal