By: Scott St. John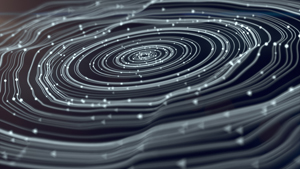 Digital transformation is changing the world. It's connecting us in new ways, providing new entertainment and gaming experiences, redefining the workplace environment, revolutionizing manufacturing, reinventing commerce, changing the customer experience, advancing healthcare, and allowing us to experience new, virtual realities.
Service providers find themselves at the center of this global, social and industrial revolution. They are on the front lines of technical innovation, helping their customers transform while also providing the backbone for transformation to virtually every vertical industry.
According to IDC, the digital transformation opportunity is massive, and expected to grow from $1.1 trillion in 2017 to $1.3 trillion in 2018, with compounded annual growth rate (CAGR) of 17.9% to nearly double to more than $2.1 trillion in 2021. Over half of digital transformation spending is expected to be spent on investments in operational efficiencies, with another 25 percent invested in omni-channel communications, and an additional 18 percent invested in business intelligence and analytics solutions. Service providers are ingrained in each of these areas, as they guide their customers through their own transformation initiatives and build the technology infrastructures to enable digital-transformation innovations for industries around the world. But it's no easy task and, to survive, service providers too must transform.
Mounting pressures
Service providers are under enormous pressure to transform their own businesses technically, organizationally, culturally and operationally. Digital transformation has become a business imperative, as service providers' customers, channels, and competitors are now digital. Their products, business insights, employees, and operations are digital. By the end of 2018, the majority of consumers will discover, buy and consume services through digital means. Meanwhile, service providers also face enormous pressure from eroding traditional service revenues for fixed-line, data, and managed services and increased competition from digital, web-native and over-the-top (OTT) competitors – making digital transformation a mission-critical initiative for telecom companies.
To compete, there are three primary areas of transformation that all services providers need to consider:
Organizational and Cultural Transformation: Service providers are geographically dispersed with teams and functions spread across a diverse and broad workforce. They also work with a wide variety of contractors, suppliers and partners, which drives the need for cohesive workplace productivity tools and creates unique cultural, regulatory, and governmental challenges.
Digital transformation also changes the way companies work and collaborate, and creates a culture anchored in communication, collaboration, sharing, learning and growth. Service providers must harness the power of advanced, scalable, and carrier-grade commercial solutions – such as analytics, CEM, Cloud, and CRM platforms – to promote a truly integrated digital culture.
Network Transformation: Service providers operate the largest networks in the world in the air, on land, beneath the seas, and in the heavens above. But, pressures from over-the-top (OTT) and web-native competitors are changing the traditional telecom business model, reducing the service delivery time cycle from years or months to days and minutes. New virtual, software-defined, and cloud networking technologies are also transforming networks, and are necessary to achieve operational efficiencies that are needed to profitably deliver and keep up with the demand for bandwidth and next generation services. These market pressures make this transformation mandatory for service providers that must support, use, and deliver these new technologies while maximizing automation and operational efficiency.