By: Scott St. John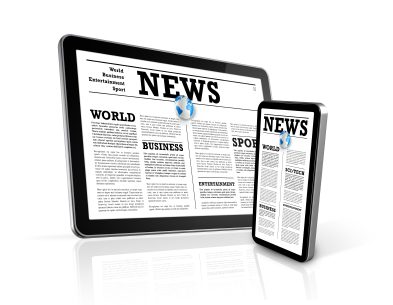 October brimmed with fascinating news and developments. Network evolution in the skies will provide gate-to-gate connectivity for portions of the Air France fleet, thanks to a new partnership between Global Eagle and Orange Business Services. The 2018 INCOMPAS Show is set to kick off at month's end, with a keynote panel focused on the bandwidth revolution and fiber's key role on the road to 5G. Cybersecurity concerns should remain top priorities, according to new findings from Vodafone on readiness and business outcomes. And, DE-CIX, the world's leading operator of Internet Exchanges, successfully achieved the largest-ever relocation of the Internet in Germany.
The top stories from the month are summarized below. To view all the news as it breaks, check out Pipeline's News Center or subscribe to receive our news summary each week.
Network Evolution
How do you relocate the Internet in Germany? Ask DE-CIX. Headquartered in Frankfurt and the world's leading operator of Internet Exchanges, DE-CIX achieved the largest-ever infrastructure relocation in its company history—in live operation this month. More than 450 customers were migrated from the old Frankfurt 7 to the new Frankfurt 12 location on the Kleyerstrasse campus. Approximately 15 kilometers of fiber optic cable were laid in the process, and over 40 percent of all data traffic at the world's largest Internet Exchange was migrated without disruption.
Buy now, pay later: Ruckus introduced financing services this month, enticing its customers to invest on credit now in the latest networking technology to enhance—and future-proof—their networks and connectivity solutions. Its multiple financing options will include leasing, zero percent interest and subscription offerings.
This month, network evolution in the skies made headlines with a collaboration between Global Eagle and Orange Business Services. Air France has awarded a long-term contract for in-flight connectivity systems and services to Global Eagle and Orange. The initial phase of the contract includes rolling out connectivity to 113 Airbus A320 family aircraft operated by Air France. Installation is already underway and, when complete, will make gate-to-gate connectivity available on short and medium-haul flights throughout Europe, Russia, North Africa and the Middle East. Elsewhere in Europe, Nokia announced that Netia, one of the Poland's largest regional telecommunication operators, will deploy its Unified Cable Access solution. Initially targeting the cities of Warsaw and Krakow, Netia will boost the cable network capacity needed to bring Gigabit and IPTV services to Poland. The deployment will create Europe's first fully virtualized Distributed Access Architecture (vDAA) cable network.
Nokia also launched its open and programmable fixed access network slicing this month, which will redefine fixed broadband. Nokia Fixed Access Network Slicing partitions the fixed access network into autonomous slices, delivering Network-as-a-Service for operators. With Nokia's solution, operators will be able scale to a virtually unlimited number of discrete network slices that can be independently operated, for example to run 5G mobile transport, wholesale or business services.
As part of the Microsoft Airband Initiative to expand broadband Internet access to unserved areas of the rural US, Redline Communications and Microsoft announced a new partnership that will focus on making TV White Space technology more affordable and accessible.
Network enhancement news included updates from Cato Networks, which introduced self-healing SD-WAN for global enterprises this month. Cato Cloud technology repairs outages occurring across the network of data centers, cloud resources, and branch offices and ensures high availability for nonstop network operation for digital businesses. Ciena has beefed up its packet network portfolio with adaptive IP and coherent optics, enhancements intended to reduce operational complexity and fuel emerging high-growth applications. Its new capabilities will allow CSPs to capitalize on the promise of 5G and navigate ongoing network evolution. In collaboration with HP, Sprint announced support for the HP Spectre Folio with connectivity powered by Sprint's LTE Advanced network. HP Spectre Folio will give Sprint customers an always-connected experience. And Windstream Wholesale, which provides advanced network communications, will be expanding its core network to expand services for international carriers, enterprises, and content providers with fast access to subsea cable. Expansion adds capacity to Ashburn, VA, Newark/New York City, and other major data center markets.