By: Cathal Mc Daid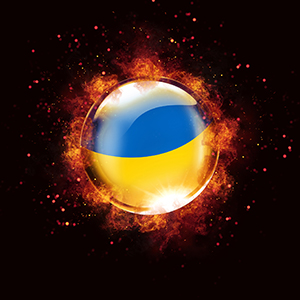 The 2022 Russian invasion of Ukraine has been ground-breaking in many ways when it comes to technology. One of the least acknowledged, but potentially most important development, has been the wartime use of mobile telecom networks. Overlooked before the war, when most analysts (mistakenly) predicted that their version of "cyberwarfare" would play a large part in the conflict, military and civilian use of mobile telecom networks has had a massive impact on the course of the conflict.
Ukraine's efforts to keep its communications infrastructure operational has paid dividends in three different areas:
One: Ukrainian morale and international response. Functioning Ukrainian mobile networks allowed reports and images of early military successes – such as repelled Russian forces and burnt-out Russian tanks in the early days of the invasion – to be shown to the Ukrainian public. A dramatic example of this was President Zelensky making and sending an inspirational video message to all of Ukraine with his phone in Kyiv the morning after the invasion, something that would not have been possible without functioning Ukrainian mobile networks. While boosting morale and galvanizing internal will to resist, the Western public and decision-makers worldwide also became witness to Ukraine's valiant struggle, accelerating material support from these countries.
Two: Impact on Russian invasion forces. Ukraine's telecom networks were able to restrict the use of its mobile networks by Russian phones. When Russian forces ran into communication difficulties with military radio systems, many opted to communicate over Ukrainian mobile networks using confiscated Ukrainian phones. As a result, they were exposed to location tracking, communications interception, and other forms of surveillance, reportedly leading to the deaths of several high-ranking Russian commanders.
Three: Intelligence gathering. Communication over mobile networks enabled crowdsourcing to become a novel and effective means of intelligence gathering. Civilians were able to report enemy-related observations, such as troop movements, drone attacks, and battle damage. Reporting methods ranged from simple text messages via messenger apps to rich-content Telegram channels to dedicated mobile apps that determine the direction of drone and cruise missile sound, thereby facilitating physical interception.
These successes did not come by chance. At the beginning of the war, some analysts were perplexed that Russia permitted mobile networks to continue operating given their potential value to Ukraine's overall defense effort. These analysts tended to completely ignore the fact that Ukraine could act with agency in defending its infrastructure, and devise and execute strategies to keep these mobile networks operational. Ukraine's largest mobile operator, Kyivstar has since disclosed how it began preparing months in advance to remain operational in the event of hostilities. Those preparations included:
Construction of additional network control centers
Construction of "bunker" base stations in critical buildings
Relocation of critical equipment away from exposed/vulnerable areas
Increasing interconnection with the rest of the world
Performing in-depth security analysis of possible vulnerabilities
The importance of proactive, pre-war preparation cannot be underestimated. For example, less than 24 hours after the war began all three Ukrainian mobile operators – Vodafone Ukraine, lifecell, and Kyivstar – blocked mobile numbers from Russia and Belarus registering on their networks. As stated above, the impact on the invading force was significant. Unable to use their own phones as a backup to their problematic military radio system, Russian soldiers resorted to confiscating and using Ukrainian phones/SIMs, which made them vulnerable to location tracking and interception.