Mobile services have developed from 'best effort' to viable alternatives to landline voice and data services.
DU and CU elements at significantly higher data rates than earlier generations. The fiber infrastructure required to aggregate 5G's massive data requirements is central to the "new backhaul economy." A new calculus will be required to account for the location of fiber assets, the bandwidth availability and service levels to drive 5G deployments.
Location of fiber assets
The availability of fronthaul fiber access will be the single largest market problem in deploying 5G. The frequency ranges 5G of sub-6GHz and millimeter-wave (>24.25GHz) offer potentially staggering bandwidth services (20Gb/s downstream, 10Gb/s upstream), with the drawback of substantially shorter reach than 4G (often at line-of-site ranges). One 4G tower often covers several square miles, in comparison to shorter-range millimeter-wave antennas that will be spaced approximately every 300 meters to provide a blanket of up to roughly sixty small cells per square mile, with each small cell potentially requiring up to six fibers! (see Figure 2) Even regions with high population density, including city centers and other areas where fiber may be present, will have difficulties offering this massive fiber density.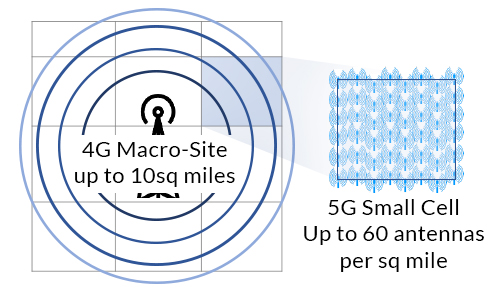 Figure 2 – 4G macro-cell site vs. 5G small cells
Bandwidth availability
5G enhanced mobile broadband achieves landline-like data rates but also requires the pipes feeding the network to be supersized. This starts at the radio head, with 10Gb/s and 25Gb/s fiber optic transceivers installed, with the midhaul aggregating to 25Gb/s to 100Gb/s connections to up to 100Gb/s in the backhaul. (See Figure 1)
The value proposition of 5G to wireless service providers goes well beyond enhanced mobile broadband services, layering network slices to support new service offerings. Internet of Things, smart energy, smart agriculture, and critical performance applications such as driverless cars are a few of the many applications for 5G technology. The supporting 5G x-Haul architecture will require not only significant bandwidth upgrades in backhaul transport links but in the distribution (midhaul) and access (fronthaul) network segments.
Service levels
Mobile services have developed from 'best effort' to viable alternatives to landline voice and data services. The low-latency and highly available applications driving 5G will drive wholesale services to another level. Driverless cars and manufacturing machine-to-machine (M2M) communication will require service levels beyond traditional cellular communications. Additionally, the rumors of 4G's demise are greatly exaggerated: 4G services will continue to be offered and will coexist with new 5G services.