By: Jesse Cryderman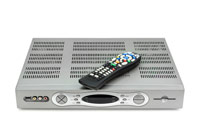 One of the most annoying factors with TV services is the set-top box (STB). This big, clunky extra piece of equipment that subscribers need to find space for and pay to rent--all so the service provider can deliver and charge for their services. To make matters worse, each time a customer moves or upgrades services, they require a new STB and must return, deliver, and arrange to receive a new one. Even though some cable operators such as Comcast have come a long way with their "take it with you" program, it still begs the question:
does anyone really need a STB anymore?
While I doubt that anyone
loves
their set-top box, they do perform valuable services and they are an integral part of the modern TV-video experience. More appropriately, STB are seen as home media gateways: they authenticate subscribers, provision and decode video streams, and deliver time-shifting and recording capabilities as well as on-demand features.
With that said, the set-top box, in its current incarnation, has become a relic of our video past. Like similar entertainment relics, it's become antiquated, cumbersome, and it doesn't match the aesthetic of modern entertainment systems. However, declaring the set-top box dead is both premature and misses the point. The set-top box is on its way out, but the essential functions it performs aren't going anywhere. So what will replace it?
The Video Game is Changing
Before we unpack the future of the STB, some discussion of the underlying video delivery technology is warranted, as there are two standards at play-- standards that prevent me from swapping my Verizon FiOS STB for a Comcast STB. Although time-shifting and video-on-demand (VOD) has made cable TV look and feel a little like internet TV, it is indeed different.
From inception, cable was a one-way broadcast system. The technology then evolved to create return paths on the lower frequencies to send commands "back to base" from the set-top box. Today, the Data Over Cable Service Interface Specification (DOCSIS) predominates. The fastest iteration is DOCSIS 3.0 (deployed by MSOs like Comcast) can deliver around 150Mbit/s download speeds and about 100 Mbit/s upload. DOCSIS 3.0 also enables MSOs to deliver video over IP.
Internet Protocol TV (IPTV) is video programming delivered via packets over a two-way session, just like all other internet traffic. Verizon FiOS, AT&T U-Verse, and all forms of internet over-the-top (OTT) video such as Hulu and Netflix are IPTV. By nature, IPTV is interactive, non-proprietary, and the de facto communication standard for all things internet.
Cable and IPTV lack interoperability today, but this reality may only last another five to 10 years. The communications networks of the world are slowly moving to all-IP, packet-based technologies. Since the model of the future is all about coopetition (aggregating and layering numerous service ecosystems to create new service experiences), IP is the standardized language of the future. It's only a matter of time until everything is IP-based, including video from the cable guy. Numerous MSOs discussed IPTV strategies at The Cable Show last year, and in preparation for the eventual transition, Comcast plans to test an IPTV network at MIT this fall. Meanwhile, major OTT plays by Apple, Google, and Roku are underway to snatch as much of the market share as they can.