CSPs should be able to analyze the effects of new policies in real-time
In the past few years, however, wireless policy deployments have rapidly outpaced fixed-line deployments as operators scramble to maximize precious bandwidth through a variety of measures (traffic management, peak-period resource utilization, Wi-FI offload, etc.), while rapidly rolling out new services to data hungry mobile customers. As you can see in Fig. 1 below, mobile policy deployments currently outnumber fixed-line policy deployments by a significant margin, a margin that is projected to widen.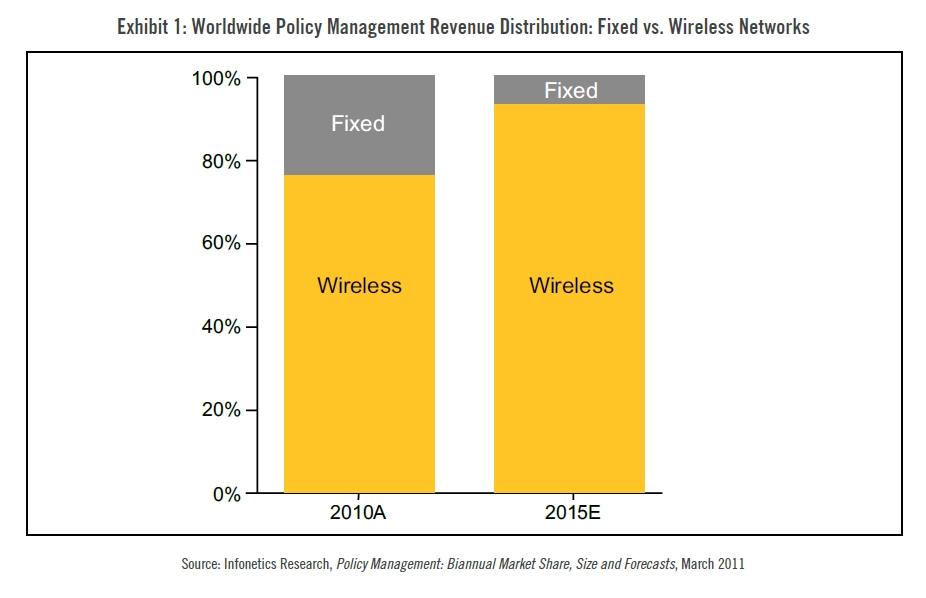 Feeding the Need for Policy 2.0?
The market for communications services has undergone dramatic change in the past five years. Third-party content, applications, and over-the-top services (OTT) have accelerated the arrival of a new digital services economy wherein the concept of a "traditional" service is fading (as are attendant revenues). As a result, CSPs need smarter, more agile networks and communications IT (ComIT) architecture to keep pace with the demand for, and management of, new services. This fundamentally requires an evolved concept of policy.
Policy isn't just a gatekeeper, but the "brains of the network," says Joanne Steinberg, director of strategic marketing, Tekelec. And, a bigger brain means more agility, greater personalization, and faster time-to-market with new services.
Steinberg goes on to point out that mobile operators are most concerned with "how they can use their policy to add value to over the top applications. If I had to pick one theme, that would be it. Some numbers say over 50 percent of the mobile data revenues today are going to OTT providers."
Kishen Mangat also pegged OTT as a top driver, and cited, "a convergence of factors" behind the dramatic rise in mobile policy over the past two years. "Smart phones and the corresponding explosive growth in data usage, disintermediation of telcos from their subscribers via OTT, and the need to more effectively monetize networks, provide
value, and build
stronger relationships with customers" is driving the Policy 2.0 boom, commented Mangat.